Ad blocker interference detected!
Wikia is a free-to-use site that makes money from advertising. We have a modified experience for viewers using ad blockers

Wikia is not accessible if you've made further modifications. Remove the custom ad blocker rule(s) and the page will load as expected.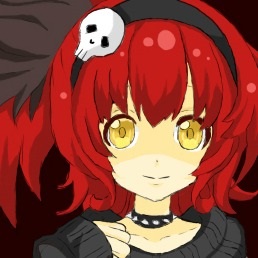 Name: LYRA (リラ)
Age: 15 years
Gender: Female
Birthday: 16/09/2016
Height: 5'6" (1,67cm)
Weight: 47kg
Seiyuu: Neko-chan 猫ちゃん
Physical appearance
Her hair is red and black, long, fluffy and tied in a ponytail on the side. She wears a black headband decorated with a flat skull. She got amber eyes and is wearing a studded choker. Her belt is also a little bag decorated with a skull on a red background. It got a chain on it and three red hearts to the opposite. Lyra wears a black wool sweater with the late shoulders bared. Her skirt plaid is so short that we barely see it under her sweater. She has no socks and wears red wedge heels black ballerinas. She can also wear high boots. Her item is a skull and a steampunk gun .
Picture used to draw LYRA: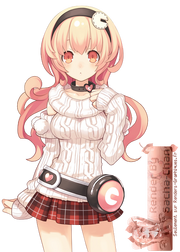 Personality
LYRA is a hot-blooded Yangire who loves rockish musics and clothes. Usually, she doesn't like blood but when she gets sick, it doesn't matter to her eyes anymore and can hurt anyone and herself. Acting cute, LYRA is unpredictable. Do not piss her off. Never. Her sexual orientation is directed towards girls and is therefore pansexual . She has a crush on Sukone Tei .
About the seiyuu
She is a french Youtaite , a singer on Youtube who sings Eastern songs and sometimes Western ones. She also has a DeviantArt where she shares with everyone her drawings. She started to sing at her youngest age and joined the Youtube community in 2012. She was helped by her father first who sings too. She wishes that one day, she will help people with her voice and maybe save herself from nervous breakdown.
Details
Her name is pronounced in french , not in english. So LYRA in katakana will be "リラ" (and not "ライラ").
Rules
Draw LYRA is free but not declare her as yours.
Seriously, you can do sexual songs, drawings and stuffs using LYRA. I'm open to it, I don't give a care lol.
Please, respect her clothes style which is Rock or yet, Metal and Punk.
You can make her sing anything and even for original songs (usually Rock).
Not obligated to credit me but just don't declare LYRA as yours.
Yuri is heaven °^° *cough* Make lots of yuri drawings of LYRAxTei o/
Download the voicebank
LYRA FRVB [/]
LYRA ENVB [/]
LYRA ROCK (JP only) [/]
LYRA SWEET (JP only) [/]