LeLias Melaven
NAME INTERPRETATION: Original english name.
TYPE: Average UTAU in ACT 4 with a tuned OTO file, Sings Hiragana and Romaji. Please credit or message the creator "Kalvin Lewis".

MODEL: No model number. Unmarked original UTAU, No model or serial numbers exist.
GENDER:
Female
VOICE RANGE
Freq avg: 291.8 Hz (D4)
RELATED CHARACTERS
No related characters exist for lelias.
AGE:
18
GENRE
Any genre is applicable and often catchy indy.
HOMEPAGE
YouTube
Deviantart Gallery
WEIGHT:
125 Lbs
CHARACTER ITEM
Sky Blue Bass Guitar
CREATOR
Kalvin Lewis
HEIGHT / MEASUREMENTS:

5 foot 5 inches.




( 165cm)

VOICE SOURCE
Creators voice and synthetic programmed alterations.
PICTURE LINK LIST
Deviantart
BIRTHDAY:
Nov 11, 1992
LIKES
Kiwi fruits
SIGNATURE SONGS
Your love will surely Skyrocket, Sigre,
RELEASE DATE:
October 4, 2010
DISLIKES
Bad UST files
MEDIA LIST
Youtube
PERSONALITY: Depicted as a stand alone UTAU she is often either pracitcing singing or playing her blue bass guitar named "Velania"'. Lelias is a one of a kind Utau going through a revision to "ACT4". She is known to enjoy singing popular tunes of other vocaloids and utau for fun with karaoke. She lives in Canada, She is a kind girl who enjoys singing to people who need a nice song to listen to. She never gets mad and often laughs. She isn't shy at all and sometimes she seems like she talks or sings too much. (If you use her to sing please message me the link of the video, So I can check it out!).'
To download the voicebank please click the link below.
Lelias is Act 4 and the OTO.ini file is configured properly and there are no derp notes. Its also translated into romaji and hiragana.
Supplemental Information Hair Color: Blonde
Eye Color: Sky Blue
Dress: Black with "white frills" and arm sleeves with long white stockings and little black button shoes.
Headgear:
A one ear black mic/headphone on the left side. Or a dark blue bandana.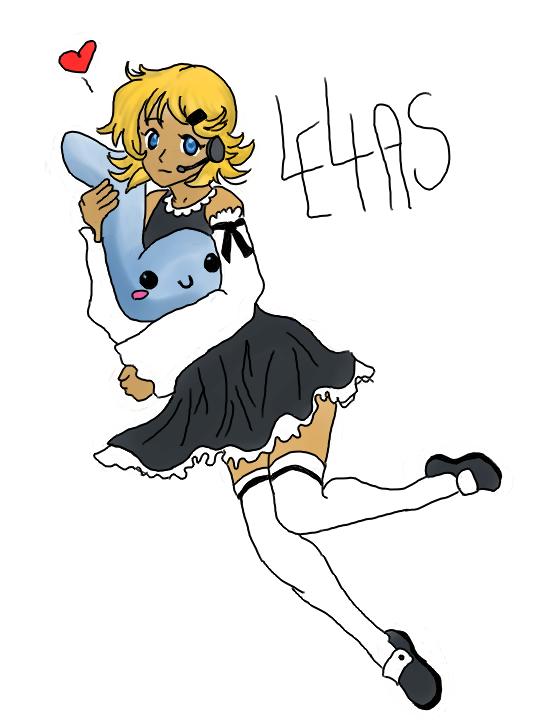 Line art by Dyani Lucero
Coloring by
Kalvin Lewis