Lelo Kasane 


(Japanese:

 

かさね

れろ  Kasane Rero)

NAME INTERPRETATION:
重音 (Kasane) - Multiple meaning "Piled-up Sound," "Double Sound," "Heavy Sound."
れろ (Rero) - 

TYPE: Vipperloid

MODEL: 0402- This is based on Tetos' Model number.

GENDER
Female 
VOICE RANGE
A3-C5 @ 70-120 bpm
RELATED CHARACTERS

Ted Kasane(Cousin finds him not fun at times) 

Teto Kasane( Cousin loves to hang out with)

Kida Fukushima(Crush)

AGE
20
GENRE
Pop Music and Anison
HOMEPAGE
UTAU Wiki
WEIGHT
98lbs (44 kg)
CHARACTER ITEM
Pocky
CREATOR
Kayla Rhinehart
HEIGHT / MEASUREMENTS
5'3.5
VOICE SOURCE
Kayla Rhinehart
PICTURE LINK LIST
UTAU Wiki
BIRTHDAY
April 1, 1956
LIKES
Teto Kasane, Being lovey dovey, Kida Fukushima
MEDIA LIST
None yet 
RELEASE DATE
Unknown
DISLIKES
Snakes, and Spiders
SIGNATURE SONGS

PonPonPon

(comming soon)

PERSONALITY: Lelo's personality is usually based on Tetos; but she's not tsundere nor yandere, however she can be a Deredere at times. She has a crush on Kida Fukushima, but currently he likes Teto. She is mistaken as a Vocaloid because she is Tetos' cousin.
Supplemental Information
Hair color: Purple (long hair, curled up like Tetos')
Headphones: Pink head phones
Eye color: Purple 
Headphones: Purple headset with red illumination.
Dress: Dark Purple school uniform (similar to Tetos')
Nationality/Race: Japanese.
Favorite phrase: Teto, you're so cool! I'm glad you're my cousin
Voice Configuration
Lelo is designed for use with the Japanese language only, since she does not have phonemes for other languages. Her voicebank is in Kanji and Romaji. Her voicebank will be released soon! :3 
Gallery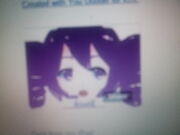 Ad blocker interference detected!
Wikia is a free-to-use site that makes money from advertising. We have a modified experience for viewers using ad blockers

Wikia is not accessible if you've made further modifications. Remove the custom ad blocker rule(s) and the page will load as expected.