LILIA


(Japanese: リリア - りりあ - Riria)

NAME INTERPRETATION:
リリア (Lilia; Lily)
TYPE: UTAUloid
MODEL: SENKA02
GENDER
Female
VOICE RANGE
Unknown
RELATED CHARACTERS
Mizori Mikai (same creator; best friend)
Takako Akura (same creator; friend)
Ryuuna Osakawa (same creator; friend)
Karui (mother; no page yet)
Yuno Akura (same creator; love interest)
Akeno (genderbend; no page yet)
AGE
16
GENRE
Any
HOMEPAGE
TosyaChan's dA
WEIGHT
43 kg
CHARACTER ITEM
white tulip (flower)
CREATOR
TosyaChan
HEIGHT / MEASUREMENTS
164 cm
VOICE SOURCE
Yovzh
PICTURE LINK LIST
DeaviantART
BIRTHDAY
March 10 (♓; Pisces)
LIKES
Flowers, cats, to watch football and to play piano
MEDIA LIST
YouTube
RELEASE DATE
March 12, 2012
DISLIKES
cold weather
SIGNATURE SONG
None
PERSONALITY: Lilia is very calm and "poker faced" at the outside. She likes to play piano, listen to music and to sing. She also interested in watching football, which usually watches with her friend Takako Akura. Also, she loves cats very much. But despite tranquil shell, Lilia is a very exuberant and bright person at the inside. Sometimes her brightness shows at the outside, and in this mode Lilia can make really crazy things.
Lilia is also very amorous, insightful and just sweet person at all.
SPECIAL INFO: Due to Lilia's attachment to SENKAloids, her blood colour is white.
Supplemental Information
Hair color: White.
Eye color: Light-brown.
Earphones: High-profile black headset.
Dress: Short light-pink top with "UTAU Lilia" words on it. Light shoes with flowers, white pantyhose and skirt. Also, she always wears piano.
Nationality/Race: Japanese/human.
Favorite phrase: That which is called firmness in a king is called obstinacy in a donkey.(c)

Design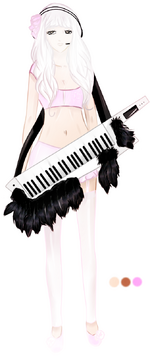 Lilia's design was made by TosyaChan&Yovzh. For now, she has two official designs.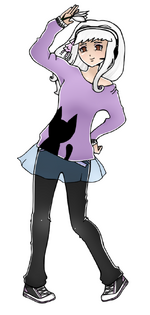 Voice Configuration
Lilia's CV Hiragana/Romaji ACT01 is up to download here - http://www.mediafire.com/?s6cqto6npt2kqb7
Voice sample/demo song - http://youtu.be/Z9KkONuMyyU
The contents of this page can't be changed without prior notice.