LIZABELLE WAVE


(Japanese:エーブライザベルーEebu Raizaberu)


NAME INTERPRETATION:
エブ (Eebu; Wave)
ライザベル (Raizaberu; Lizabelle)
TYPE: brsa-loid , [UTAU[hun]
MODEL: -8 - Written on her left arm.
GENDER
Female
VOICE RANGE

C4-C5

Too high considered as "Oriipoid"

RELATED CHARACTERS

Lily (Her idol)

Luka Megurine(idol)

Haruka Orenji (fellow Hungarian UTAU good friend)

AGE
18
GENRE

Rock

(since her voice is naturally loud, this genre fits well)

HOMEPAGE

Lizabelle folder official gallery

WEIGHT
58kg
CHARACTER ITEM
Pineapples
CREATOR
brsa
HEIGHT / MEASUREMENTS
164cm (5 ft 3)
VOICE SOURCE
brsa
PICTURE LINK LIST
BIRTHDAY
November 24, 1994
LIKES
Pineapples
MEDIA LIST
Covered song's folder
RELEASE DATE
July 12, 2012
DISLIKES
UNKNOWN
SIGNATURE SONG
Wavefile
PERSONALITY:She has no set personality but is said to be a very mature woman and is very friendly to others around her.
Supplemental Information
Hair color: Dark violet - Long; down to waist.
Hairdo: front bangs with rest of hair tied back into a ponytail.
Eye color: Hazel.
Earphones: Wears none.
Dress:Yellow and Black croptop, yellow and black skirt with light purple belt with a quaver attached. A black glove reaching her elbow on her right hand with two gold bracelets on it and an arm band on her left; going on her elbow. A yellow boot going to her thigh on her right with a purple cuff on top of it. On her left leg is a black-lined light purple band and a black and yellow boot starting from her knee with another purple cuff on top of it.
Nationality/Race: Hungarian.
Catchphrase: "Mou you made my day miserable"
Favorite phrase:
Voice Configuration
Lizabelle is designed for both hiragana and romaji. She is still in beta mode which is shown as some of the notes aren't correctly tuned but still her voice shows a very good success rate. Since her wav. files are recorded very loudly, her voice is more suited for rock songs.
Brsa's note ACT2 Voicebank is in developement. But might not be good enough for beta and give out.
"Oriipoid" status
Considered as a high Lizabelle. This can bring bad or good results although her samples are messy which makes realistic sounding ust files to fail. She was made to be to stay robotic hence the voicebank being Beta ACT1.
Usage Clause
This is been approved by the original creator brsa and is viable to change at any moment's notice.
Brsa's note She is free to use by anyone for any duett or song as long as I am (brsa) credited.
Voicebank
Here. (ACT1)
Character
MMD Model download
Concept Art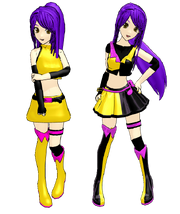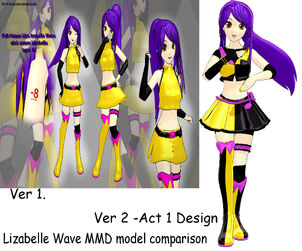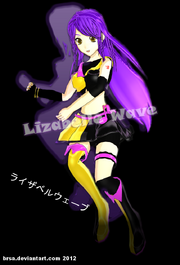 Ad blocker interference detected!
Wikia is a free-to-use site that makes money from advertising. We have a modified experience for viewers using ad blockers

Wikia is not accessible if you've made further modifications. Remove the custom ad blocker rule(s) and the page will load as expected.