Luciano Marissa
Talk

2
3,605pages on
this wiki
Added by

Amizu.Chan

 

Luciano Marrisa


(Japanese:ルチアーノマリッサ : Ruchiāno marissa)

NAME INTERPRETATION:
ルチアーノ(Luciano;carrier light, bring light) マリッサ (Marissa; Ocean, Sea )

TYPE: UTAUloid
MODEL: DV 30 ( DV Is Creator Name, 30 is Creator Birthdate)
Not related in any way to DV-Loid [[1]]
GENDER
Female (long ago she is male, i mean, she is transgender)
VOICE RANGE

A#3

RELATED CHARACTERS

Derapoid Hideko (Badtrio)

Melody Harmoine (Badtrio)

Lucio Carlos (Genderbend)

Mizutone Koe (Adopted sister) 

Mizutone Oto (Bully Victim) 

AGE

15

GENRE
Any genre (best at pop or rock)
HOMEPAGE
-
WEIGHT
45 kg
CHARACTER ITEM
Tomatos
CREATOR
Arazuma Meru Aizuka ([[2]])
HEIGHT / MEASUREMENTS
150
VOICE SOURCE
Meru Aizuka (Amizu)
PICTURE LINK LIST
[[3]]
BIRTHDAY

5 November (2011)

LIKES
Tomato, Mounted, war, piano, Italia (her residence), Pasta.
MEDIA LIST

[[4]]




[[5]]

RELEASE DATE

October , 28

2011

DISLIKES
Gumi (becouse her very envy with gumi voice), noise, sport
SIGNATURE SONG
-

PERSONALITY: ''''Luciano, she loves Tomato,pasta and many more Italia Food. She is very Luciano vengeful and Annoying. always, she is very forgetful. anyway, she is 100% tsundere and throwing tomatoes to her enemy. but she is very hard working to be a best UTAU singer, she faithful and kind to her friends.''''In KaNaGu, Luciano everytime is fighting fruit with Oto her bully victim,war world 3 with Hideko, and a loved one fight with Ayako (both of they love VY2 Yuma). sometime always protest to her master. 
Character Design
Edit
Hair color:
Brown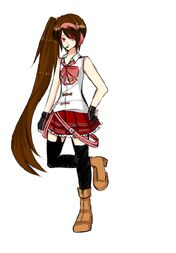 Eye color: Yellow
Headphone: Pink 
Scarf : Red
Belt: Dark Red (Tomato color) Shoes: dark grey from thigh until foot 
Nationality:Italia-Japanese-Indonesian
Voice Configuration
Edit
Act. 2 [Act.2]
- Good quality
- Romanji and Hiragana
- im suggest, use this VB to Lucio (her genderbend)
Act, 2.2 [Act 2.2]
- Good Quality
- Romanji And Hiragana
- Luciano Voice more cute and girly, I suggest you use this for Luciano
Act.3 [Act.3 ] 
- Better Quality 
- Romanji and Hiragana 
- better Oto.ini
- her voice is more mature and manly (becouse me LOL) please set her flag as describe on her VB.  
Genderbend
Edit
Use Act. 02, set flag g+7
or, use Act. 03, set flag between g+3-5
Other Relation
Edit
Idol:
Hatsune Miku (Idol)
Vivi-tan (Idol)
VY2 Yuma 
Luciano long ago is men .
she is hiding something about her genderbend.
she also like pasta and many more italia foods.
Favorite phrase : "Becouse im so Fabulous!"
She is falling in love with VY2 Yuma
Usage Clause
Edit
Avoid Mary-sue
Not for sale, use her freely free
Please credit/tell the author if you use her voice
Certified UTAU from AmizuChan. Do not Edit with AmizuChan permission