Narune Nuna


(Japanese: 鳴る音' - Nuna - Narune Nuna)'

NAME INTERPRETATION: 鳴る音(Narune; Ringing, Voice)

Nuna

TYPE: Mochiloid ; Avocado Mochi is Nuna's icon
MODEL: RL-872 ; RL = RunaLuna, 87 is author's class' number. 2 is author's birhtday

GENDER
Female
VOICE RANGE
'266.8 Hz (C4)
RELATED CHARACTERS

Narune Nune (big brother)
Midori Nashine (Friend)
[[Aiko Ryoshi]] (Best Friend) Himene Meirisa''' (Best Friend, first duet mate) Kyokune Vio (best friend) Tokoe Kutorikune (best friend)

Kisekine Rhizumu (best friend)

Nemuine Nue (childhood friend)

AGE
16
GENRE
Any
HOMEPAGE
---
WEIGHT
43 Kg
CHARACTER ITEM
Avocado Mochi
CREATOR
aicchun
HEIGHT / MEASUREMENTS
157 cm
VOICE SOURCE
aicchun
PICTURE LINK LIST
fb
BIRTHDAY
May 8nd, 1995
LIKES
Avocado Mochi, Anime, her Handphone, her Headphone
MEDIA LIST
Youtube
RELEASE DATE
May 7th, 2011
DISLIKES
Annoying people, alone, echo, guitar ('cause she can't play it)
SIGNATURE SONG
Himitsu
PERSONALITY: Nuna is an innocent-face girl. she's Yandere. and a little bit childish. she likes to eat mochi very much. she can play the piano, violin, and recorder. but, she can't play drum and guitar. altought, she hate guitar so much. she likes to have a lot of friends and friendly. but, sometimes she had an amnesia.
Character Design
Hair color: Yellow-orange
Eye color: Orange
Dress: black
jacket: black-orange
Headphone : orange
Nationality: Indonesian - Japanese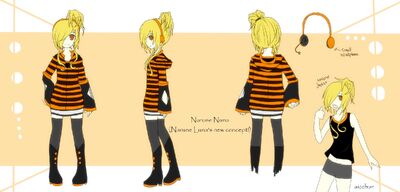 Voice Configuration
ACT3 : (since i re-make this UTAU, in her VB's name is still Narune Luna, right? if you want to change it to Narune Nuna, it's okay.. but, Narune Luna is Narune Nuna's first name. so, don't worry.. if you confused with this, can you wait until i release her ACT4? :D thanks)
FAQ
1. She Love Avocado Mochi
2. She Love Music
3. Sometimes she had an amnesia
4. She has big brother name : Narune Nune