Ad blocker interference detected!
Wikia is a free-to-use site that makes money from advertising. We have a modified experience for viewers using ad blockers

Wikia is not accessible if you've made further modifications. Remove the custom ad blocker rule(s) and the page will load as expected.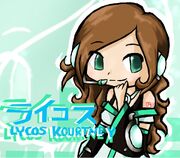 GENDER
Female
VOICE RANGE
C3-C5
RELATED CHARACTERS

Yumiko Hannah- Best Friend

Victoraloid- Best Friend

Lycos Kory- genderbent/twin

Yumiko Harry- Enemy

AGE
UNKNOWN (Appears middle teen ages)
GENRE
???
HOMEPAGE
None
WEIGHT
UNKNOWN
CHARACTER ITEM (weapon)
Bowling pin (Though she hates bowling)
CREATOR

Linkerbell

HEIGHT
5'2
VOICE SOURCE
Kourtney
PICTURE LINK LIST

Lycos Kourtney- Dolls image Lycos Kourtney Box Art Lycos Kourtney image

BIRTHDAY
September 15
LIKES
Adventure, meat, cats, socializing, teasing, smoothies, playing with her touch screen
MEDIA LIST

[Lycos Kourtney Dolls]

[Lycos Kourtney X Yumiko Hannah MAGNET]

RELEASE DATE
September 5 2011
DISLIKES
Vegetables, coffee, show offs, Yumiko Harry
SIGNITURE SONG
None
Character Design
Hair color: Long curly brown hair
Eye Color: Blue-Green
Shirt: Green and white shoulder shirt that's a bit big, with black tank top underneath
Arm warmers: Black with green. Circular touch screen control panels on sides
Pants: Green Skirt
Feet: Long black boots with green heels
Other: Mic's earphones are touch screen, center necklace is the power source
Nationality: Japanese but understands english
Breast size: C 34
Voice Configuration
Lycos Kourtney's oto.ini is currently encoded for her to be able to sing in both Romangi and Hiragana.
Genderbend
Lycos Kory is Kourtney's genderbend. His voice configurations are Y0g+13.
Facts
She's both a tomboy and girly girl.
Loves pumpkin pie.
Can be very hyper, funny, and perverted but has alot of wisdom and good sense for her age.
Can be a bad a*s around her guy-friends but becomes flustered when seriously firted with.
She's self conscience about her voice at times .
Very outgoing, she would be the first to do or say something if everyone else is afraid to.
Usage Clause
DO NOT change her design unless it is for one specific song.
If you wish to use her for anything other then covering songs please ask first.

This article has been written by the creator of Lycos Kourtney.
Please do not change any info.