ML

(Japanese: えむえる Lit. e-mu-e-ru

NAME INTERPRETATION: えむ - to smile える - verb, to get
NICKNAMES: Emily / エミリー (A pun with ML ex. ML-y), Milly / ミリー
TYPE: Uoloid
MODEL: UO--02
GENDER
Female
VOICE RANGE
C4-C5
RELATED CHARACTERS

Uotan (Close

friend)

(Close friend)

(Best friend/crush '?')

(Good friend)

AGE
18-

19

GENRE
All
HOMEPAGE
n/a
WEIGHT
93kg
CHARACTER ITEM
Candy Cane
CREATOR
TaffyTootz
HEIGHT
4'9ft
VOICE SOURCE
TaffyTootz/Tooooty
PICTURE LINK LIST
BIRTHDAY

August

17th

LIKES

Cooking,cake,candy canes, corn on a cob, piggies, exploring, trying new things, learning.

MEDIA LIST
Youtube
RELEASE DATE
--
DISLIKES

Cars, clocks, Strict people, not understanding something and being ridiculed for not knowing.

SIGNATURE SONG
NONE

ML is a bubbly,care free, innocent-like UTAU. She's almost always wearing her happy smile and tries to make friends with everybody (even if they're mean). She thinks that everyone deserves friends. ML is very open to her emotions most of the time whether it's positive or negative, being very empathetic along with this is just bound to guarantee you a ticket onto waterworks express.

Curiosity is also one of her traits and does not understand dangers right away and usually learns the hard way (Unless someone is there with her and pulls her back to explain why said thing is dangerous). Even if ML did get into a situation where she had hurt herself she wouldn't feel it unless it directly cuts the wires and circuits holding her together on the inside. However ML will still feign 'ouch!'s to fit in/not get stared at.

ML does not need the normal requirements like humans need, but can still partake in them. For example she can nap and sleep and it will leave her more energized for when she wakes back up. Or she can consume foods which burns into energy as well. 

ML sometimes doesn't understand social cues and emotions which results in her being confused or labeled as an air head - but really she is a kind and loving girl over all.

In terms of strength and fighting she is pretty strong even if she doesn't realize it herself since ML never really had a reason to fight before (Even if there was a reason she would still be very hesitant) but if it came down to it she could deliver a punch that would be equivalent to someone whacking you with two steel poles at full force ~ just lil android things ; ) ; ) ; ) ~
Supplemental Information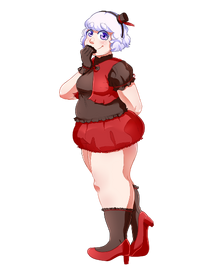 Hair color: White (Usually shaded with blue or peach)
Eye color: Indigo
Body Type: Chubby all around, more so her tummy and thighs.
Outfit: Red and Black/Brown. Usually wearing frilly and poofy skirts, dresses, or bloomers.
Nationality/Race: Northern Irish (British)
Link To Voice Bank
Act 1 (Not Reccomended): http://www.mediafire.com/?455w5d55n0hzmyr
Act 2 (POWER): http://www.mediafire.com/file/5zs9ld3iemmul7u/ML_Act_2.rar
Act 3 (SOFT): http://www.mediafire.com/file/22ve8n3btxay31g/ML_Soft.rar
VCV: http://www.mediafire.com/file/m2jon16p2qx2lsy/ML+VCV+2017+Finished+oto.rar
Terms and Conditions
Credit (and link back if possible, I'd love to see/hear!) Tooooty or TaffyTootz whenever you use any of her voicebanks and do not claim them or her design as your own.
Ad blocker interference detected!
Wikia is a free-to-use site that makes money from advertising. We have a modified experience for viewers using ad blockers

Wikia is not accessible if you've made further modifications. Remove the custom ad blocker rule(s) and the page will load as expected.