MLAA

(Russian: МЛАА)

NAME INTERPRETATION: MLAA - Малинка { Russian - raspberry } Model: Malinkoloid

GENDER
Female
VOICE RANGE
logical range CV: C3~F4

logical range VCV: F#3~B4

RELATED CHARACTERS
Relatives: VS:3, MOTHER, FATHER

Friends: Ongaku Disa, Seri Kentai, Nika Kirano, Amine Kyuko,☀, Otono Himitsu, Kado, Metarune Yoru, Tao Sorane

AGE
Age ~9
GENRE
HOMEPAGE
Homepage VK link
WEIGHT
SYMBOL
raspberry,

bow and arrows

two low long tails

CREATORS
[arts] & [[1]] by batya
HEIGHT
VOICE SOURCE
mamon
PICTURE LINK LIST
LINK
BIRTHDAY
12 May 2015
LIKES
sweets, Kaai Yuki sing
MEDIA LIST
VK
RELEASE
cv link

vcv link

DISLIKES
evil people, worms
SIGNATURE SONG
MMD Eye

PERSONALITY: Character: kind, nice, cheerful, intelligent, modest Superhuman powers:highly developed intuition, shoots well from the bow to the detractors. Also she consists a group Partyloids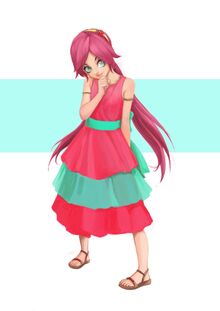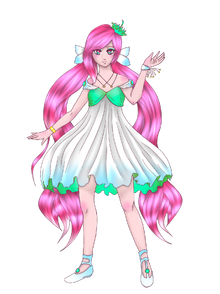 Color palette: pink, yellow, turquoise (green+blue)
Appearance: pink hair with two low long tails,on the head hoop with decoration in the form of a raspberry, on each hand hoops with turquoise stones. Dress pink and turquoise. turquoise shoes with yellow (golden) soles, in hands holds a bow and arrow
Eye: pink top, bottom turquoise
MMD model dl http://www.mediafire.com/download/i92r2v88iv4w1ar/MMD..
Recommendations for use voicebank:
Another flag - another character
use Y100F0g-19 in cv voicebank
in vcv voicebank use flag g-15, -10, -5 for adult ver.
CV, VCV, [VCV] (not ended)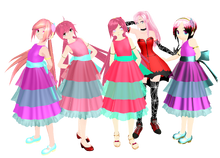 Ad blocker interference detected!
Wikia is a free-to-use site that makes money from advertising. We have a modified experience for viewers using ad blockers

Wikia is not accessible if you've made further modifications. Remove the custom ad blocker rule(s) and the page will load as expected.