MONOPOID


(Japanese: モノポイド - ものぽいど - Monopoido)

NAME INTERPRETATION:
モノ (MONO; One/Single)
Alternate name: モノト音 (MONOTO-ON; Monotone/Monotone Sound)

TYPE: MONOloid
MODEL: MNL00/MNL∞
GENDER
Male
VOICE RANGE
E3 (G#2~D4)
RELATED CHARACTERS
MONOKO (Female counterpart)
AGE
∞ (He does not age)
GENRE
Any
HOMEPAGE
MONOPOID's Blog
WEIGHT
290 lbs (132kg)
CHARACTER ITEM
Synthesizer, iPod
CREATOR
Aeri (dA/Twitter)
HEIGHT / MEASUREMENTS
6'2 ft (188cm)
VOICE SOURCE
Aeri
PICTURE LINK LIST
CONCEPT ART, PIAPRO, PIXIV, DEVIANT ART, GOOGLE IMAGE
BIRTHDAY
May 4
LIKES
Nature
MEDIA LIST
NICO NICO DOUGA, YOUTUBE, SOUNDCLOUD
RELEASE DATE
May 4, 2015
DISLIKES
Cyber world, electronics that can access to the internet; smartphones, computer/laptop, etc
SIGNATURE SONG
WAVE
PERSONALITY: MONOPOID (a.k.a. Mono) was created and programmed as an android in the cyber world and later on became a humanoid (human robot). He is very timid and straight forward as an humanoid but the opposite as an android.


BACKSTORY: Mon's original creator programmed him to hack and hijack with common computer viruses. He was transfer out from the cyber world by accident when hijacking a company that build robots. Eventually his memories as an android doesn't transfer to his humanoid form. He bumped onto Kaeru Kowairo one day and was asked to join MONOloid. After experiencing freedom in the human world, he decided to stay and refuse to go back to the cyber world as an android.


While his android form was left empty, an unknown virus infected his form and proceed to control him and do cyber crimes.
Character Design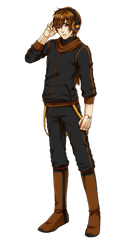 HUMANOID VERSION
Hair colour: Brown
Eye colour: Hazel
Headphone: Black and brown
Jacket: Black and brown
Scarf: Brown
Belt: Brown
Pants: Black
Boots: Black and brown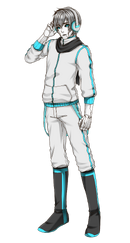 ANDROID VERSION
Hair colour: Metallic grey
Eye colour: Black and cyan
Headphone: Silver and cyan
Jacket: White and cyan
Scarf: Black
Belt: Cyan and white
Pants: White with cyan
Boots: Grey and cyan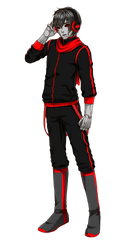 VIRUS VERSION
Hair colour: Dark grey
Eye colour: Black and red
Headphone: Black and red
Jacket: Black and red
Scarf: Red
Belt: Red and black
Pants: Black with red
Boots: Grey and red

Species: Humanoid/Android
Nationality: None
Voice Configuration
4th May 2015 - ACT1 (CV) supports Romaji and Hiragana.
Download: http://www.mediafire.com/?y0004a7pbkohbmv
Genderbend
MONOKO's voice can be gotten by setting MONOPOID's flag to g-10
MNL Members
Facts
His android form is 5.0 micrometer small with 100,000 terabytes space size.
He is the tallest and heaviest in MONOloid.
He likes to carry people around.
Everything about him is artificial.
He was labelled as 'bodyguard' by Kaeru because Kaeru uses him to defense himself from Wakana.
He doesn't have a sense of humor, neither anger.
He very naive and tends to like anything when someone tells him "it's nice/this is beautiful/I like this"
He doesn't consume food.

Certified true and correct from MONOPOID's creator, Aeri. The contents of this page is subject to change without prior notice.