NAME INTERPRETATION:

前田 (Maeda) Common japanese surname, no specific meaning.

ミコ (Miki) Common feminine japanese name, no specific meaning.

TYPE: NNloid / FINloid

MODEL: n02

GENDER
Female
VOICE RANGE

TBA

RELATED CHARACTERS

Maeda Miko (official voice source, fellow NNloid)

PERSONATILY TYPE

None

AFRAID OF

Heights

SEXUALITY

Straight (heterosexual)

AGE
16
GENRE
Any
WEBSITE
TBA
WEIGHT

46kg /101.4lbs

CHARACTER ITEM
Mango fruit
CREATOR
HEIGHT

159cm /5.2ft

VOICE SOURCE
Maeda Miko
PICTURE LINK LIST
BIRTHDAY
September 26
LIKES
Squirrels, mango fruits, sleeping, winter, swimming
MEDIA LIST
RELEASE DATE
TBA
DISLIKES
Bullies, bugs, snakes, spicy food
SIGNATURE SONG
TBA

PERSONALITY: Miki is helpful, loving, caring and chaste. She can be very stubborn, clingy and sarcastic (like her brother) if she chooses to.
Supplemental Information
Hair color:
 Blonde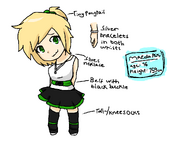 Headgear:
 None
Eye colour: 
Green
Top:
 White top with a green belt
Bottom:
Black skirt with a green stripe at the bottom
Shoes:
Black-white ballerina shoes
Nationality/Race:
 Finnish-Japanese
Character Colour:
Green
Other:
 She has silver bracelets in both of her wrists and a silver neckalce.
Extra Character Relation
Voice Configuration
TECHNICAL INFORMATION

Maeda Miko - 前田ミキ
ARCHIVE FILENAME
_前田ミコ  VCV音源v2.0
ARCHIVE FILESIZE
TBA
DATE RELEASED
TBA
NO. OF VOICE PHONEMES
TBA
TOTAL UNCOMPRESSED SIZE
TBA
PHONEME ENCODING

Hiragana

AVERAGE FREQUENCY
TBA
FRQ FILE PRESENCE
YES
LANGUAGES SUPPORTED
Japanese
UNOFFICIAL SUPPORTED LANGUAGES
Engrish
OTO.INI PRESENCE
YES
TUNED OTO.INI
YES
LANGUAGE PARSED VIA OTO.INI
NONE
VOICEBANK AUTHOR
Dwieviel
TECHNICAL DIRECTOR
Dwieviel
RECORDING SOFTWARE USED
Audacity
TBA
DOWNLOAD LINKS

SPECIAL NOTES:

- If you want Miki's voice, remember to use g-10 (-13)

- Recorded with Logitech USB Microphone

- The voicebank is a two or three pitched VCV (undecided)

- You get the best result if you use TIPS (resampler)
Planned/Future Voicebanks
前田ミコ

finnish VCV (one pitch)

前田ミコ

night VCV (soft/whisper append, one pitch)
Trivia
Miki has an IQ of 115.
Miki and Miko have the same kind of relationship as Rin and Len (Vocaloids). Therefore, they can be referred as twins, mirror images, however you see Rin and Len. The main point, after all, is that Miko is a yandere towards Miki.
Usage Clause
If you use Miko's voicebank (with Miki's voice), please always credit Dwieviel.
Do not edit the oto.ini or the syllables etc.
Do not redistribute or give the DL-link of the original bank to anyone without a permission.
Recommended to link your cover or cover(-s) (miko;used) to Dwieviel.
Always read the readme.txt.
Ad blocker interference detected!
Wikia is a free-to-use site that makes money from advertising. We have a modified experience for viewers using ad blockers

Wikia is not accessible if you've made further modifications. Remove the custom ad blocker rule(s) and the page will load as expected.