Ad blocker interference detected!
Wikia is a free-to-use site that makes money from advertising. We have a modified experience for viewers using ad blockers

Wikia is not accessible if you've made further modifications. Remove the custom ad blocker rule(s) and the page will load as expected.
 

Magenta Inaichi




(Japanese:意内チマゲンタ'- いないちまげんた''- Inaichi Magenta''')




NAME INTERPRETATION:
意内チ (Inaichi; Feeling inside the bottom [?])

マゲンタ (Magenta; a colour name, from CMYK printing colour)

TYPE: CMYKLoid
MODEL: M-03
GENDER
Female
VOICE RANGE

F3-D5

Freq. Avg : 282.0 Hz [C#4]

RELATED CHARACTERS

Maikeru Jakusan (Same creator/Best friend)




Gikai Utagoe(Same creator/stepsister)




Gitai Utagoe(Same creator/stepbrother)




Moegeka Inaichi (Same creator/younger Sister)




Kuroi Inaichi (CMYKLoid/ Genderbends)




Maikure Jinuro(Same creator/Deceased UTAU)




Kojima Miharu(Friend for chat/duet)




Mike Jakune(Friend/Senior)




Mantage Inaichi(Failed UTAULoid Version)




PEACHES-chan (yandere relationships,idol)




Michi Jacksonoid (Teacher)

AGE
17
GENRE
Any [not recommendation for screamo genre]
HOMEPAGE
WEIGHT
40kg
CHARACTER ITEM

Vintage Microphone with blue illumination and pink wire

Chainsaw with gearheart-marked [in yandere mode]

CREATOR
HEIGHT
170 cm
VOICE SOURCE
Aisuru Daichi

PICTURE LINK

LIST

BIRTHDAY

October 31, "1996"

[based from human age]

LIKES
Marshmellow, Takoyaki, Gore stuff, Halloween party, strawberry dodol [ Indonesian food, like marshmellow but a little bit soft and dense]
MEDIA LIST
Soundcloud
RELEASE DATE

Unreleased

DISLIKES
Cute stuff,Fobia with buttterflies, hot place, rude people
SIGNATURE SONG
Matryoshika
PERSONALITY
A multi-persona girl, yandereloid, have a great intelligence, love to gothic and gore stuff, she couldn't crying, love slow genre, her friend called her 'banshee' just for the slang name. has fobia with butterflies, loved to lucid dream.
.
Character Information
Hair color
: Brown
Dress:
pink-fuschsia blouse jacket looklike with white and blue highlight wires, wires-looklike zipper, brown hoodie. See the concept art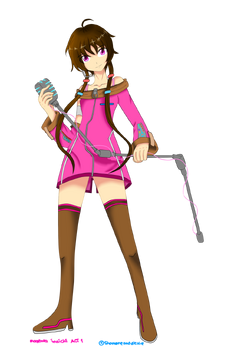 for details
Eye color
: Magenta
Earphones
: White headphone with play pause and stop button, a screen monitor on left side and volume control on the right side
Nationality/Race: Yandere, a dark side in the left side of her body [the concept art's coming soon]
Voice Configuration
Her voicebank is private. But you can ask to get it.