Mai Sara


(Japanese:まい さら , Mai Sara)

NAME INTERPRETATION:
まい さら (Mai Sara) -From creator's middle name split in two

TYPE: UNKNOWN

MODEL: NONE

GENDER
Female
VOICE RANGE

logical range: G3-B4

RELATED CHARACTERS

Arika, friend


Akira Kandakaine,friend

AGE

Unkown

(looks 17)

GENRE
Unknown
HOMEPAGE
WEIGHT
Unknown
CHARACTER ITEM
Unknown
CREATOR
MC
HEIGHT
164 cm
VOICE SOURCE

MC

PICTURE LINK LIST
Deviantart
BIRTHDAY
Unknown
LIKES
rabbits, cotton candy, winter
MEDIA LIST
RELEASE DATE
January 3 2014
DISLIKES
summer, winter
SIGNATURE SONG

None

PERSONALITY: A cursed immortal child. Shy. Kind at heart. She rarely smiles but when she does it is said that she smiles like an angel. She will never tell anyone about her actual age unless they are really close to her. 
Character Design 
'Hair color: Gray
Eye color: Dark blue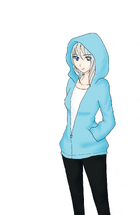 Shirt :  Light blue long-sleeve zipped hoodie
Wrist: none
Pants: Black leggings
Feet: Light blue high top sneakers
Nationality: Unknown
Voice Configuration
CV voicebank : Download Supports both romaji and hiragana
2017: After years of inactivity, the creator is thinking whether to revive with a new set of voicebanks, rename or both (?). Current voicebank available is not updated with the creator's (due to mostly for personal use).
-If revival does take place, character art will be updated along with other primary info
Usage Clause
Do not change any appearances that already given out unless there is changes that have been made by the creator
Please inform the creator if theres a problem with the voice, download link, etc
Avoided mary-sues nor plagiarism (thief, copying or etc)
DO NOT pitch the voicebank
She is free to use, NOT for SALE
Any changes on her should be noticed to the creator at any media you could find her
You can fix her oto.ini but you are not allowed to redistribute it.
Trivia  
She was a "princess" in her time 
Certified true and correct from Mai Sara's creator, MC. ONLY the creator could make the changes of this page. Do not change any detail without the creator's permission. The content of this page are subject to change without prior notice.
Ad blocker interference detected!
Wikia is a free-to-use site that makes money from advertising. We have a modified experience for viewers using ad blockers

Wikia is not accessible if you've made further modifications. Remove the custom ad blocker rule(s) and the page will load as expected.