MAIKERU HOKORI

(Japanese: マイケル·ストウブ - ストウブマイケル - Maikeru Hokori)

NAME INTERPRETATION:

マイケル (Maikeru - Maikeru is the Japanese form of "Michael". The name is from the Hebrew culture. The name means patron saint of soldiers.

ストウブ (Hokori; Hokori is the Japanese form of "Staub". The name means dust. 

TYPE: UTAUloid, SHIPloid

MODEL: 08 - He is the 8th SHIPloid.

GENDER
Male (His appearance looks Female so he can be considered as a "trap")
VOICE RANGE
E3`A#4
RELATED CHARACTERS

Ken Shippai (Admires/He Likes Her But Can't Admit It/Fellow SHIPloid)

Haruka Shippai (Treats Towards As A Brother/Fellow SHIPloid)

Kanone Zeito (Wouldn't Be Considered As "Friend"/Fellow SHIPloid)

Masu Sai (Friend/Fellow SHIPloid)

Masu Sae (Thinks Hes Gay For Some Reason/Fellow SHIPloid)

Ochiru Shizun (Friend/Fellow SHIPloid)

Den Yumiko (Friend/Fellow SHIPloid(

Oni Shizun (Friend/Fellow SHIPloid)

AGE
15
GENRE
Any
HOMEPAGE
NONE
WEIGHT
100 lbs.
CHARACTER ITEM
Football
CREATOR
Lasaillax (Now belongs to Lizabeth3148)
HEIGHT / MEASUREMENTS
5'6" feet (152 cm.)
VOICE SOURCE
Lasaillax           
PICTURE LINK LIST
DeviantART
BIRTHDAY
Janurary 27, 1995 (Based off Michael's actual birthday)
LIKES
Football, 
MEDIA LIST
YouTube
RELEASE DATE
Janurary 27, 2014
DISLIKES
School, 
SIGNATURE SONG
NONE

PERSONALITY: Maikeru is a loud and usually plays hard to get. He is most of the time a loud mouth, and tries to get noticed whenever he wants. He would be considered "popular" and gets a bunch of girls following him around. He only cares about Ken because she was the one that he is inspired by the most. But as he grew up she began aiming for another "type if guy" so now he's aiming for Momo Momone, Ken's inspiration.
Supplemental Information
Hair color:
 Dark Brown.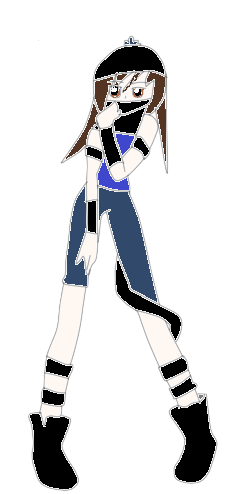 Headgear: Black Hat. Brown Cat Ears.
Eye color: Brown.
Earphones: None.
Dress/Outfit: Black and Blue T-Shirt. Black circular cuffs on his arms, wrists, legs, and ankles. Short-Cutted Jeans. Black short boots. A cat tail.
Nationality/Race: American (Sings In Japanese)
Voice Configuration
Maikeru is a Windows-Based UTAU that was supposed to be a suprise for the creators friend Michael. Maikeru's voicebank can be downloaded here. He will certainly get a new voicebank update in the future.
Usage Clause
All edits to this page should be done with care. The details seen here may be subject to change without prior notice. ===This character is no longer in use. Please disregard, but you are still allowed to use him. ===
Ad blocker interference detected!
Wikia is a free-to-use site that makes money from advertising. We have a modified experience for viewers using ad blockers

Wikia is not accessible if you've made further modifications. Remove the custom ad blocker rule(s) and the page will load as expected.