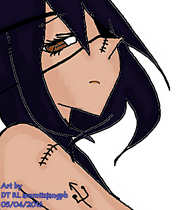 Personal information: 
Gender: Female (???)
Age: UNKNOWN
Birthday: 24th March
Release Date: 10th April 2015
Genre: Normal Song , Rock
Height: 160 cm. (5.3 feet)
Weight: Unknown
VOICE SOURCE: same to テンマイ
Creator: U/N
Voice Range: Unknown
Item: USBPlug , Japanese  Mushroom
Likes : Flute , Duck , Mushroom , Badminton , garlic, Bamboo , Friends of Tribal , Breaking Stereotypes of herself , Running , English , listen to music , Math
Dislikes : partisan divide , disrespect , Durian
She is GENDERBEND of テンマイ and Persenality LOOK LIKE テンマイ!!!
HOMEPAGE : HERE !!!!
RELATED CHARACTERS:  * MiRoLoID (SISTER)
Atsushi (Friend)
Luka (idol)
Freddie/Kyouchann (Junior / Friend)
G-Ming Group (Friends)
Ahiru(Friend of hate)
VOICE !!!
Just use Maikita DT-200 ACT1 (Normal) at "voice range F3~B4" & "Flags g-21"
Just use Maikita DT-200 ACT2 at "voice range F3~B4" & "Flags g-17"
Just use Maikita DT-200 ACT3 at "voice range D3-F#4" & "Flags g-10" 
FLAGS OF THAI CV-VC ACT4 !!! HERE
Ad blocker interference detected!
Wikia is a free-to-use site that makes money from advertising. We have a modified experience for viewers using ad blockers

Wikia is not accessible if you've made further modifications. Remove the custom ad blocker rule(s) and the page will load as expected.