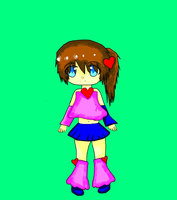 About Lala Umi
Mako Is a fourteen year old girl and goes by LALA because she loves to sing, she Is very loud and Is Jiki's best friend ! She has a crush on Usa and doesn't like Ami. She was my first UTAU In 2011 but I got rid of her because her voice was too high and made Ami instead, this Is one of the many reasons LALA hates her. Now, I have gave her a really high voice to commerate the first model. And though she seems really happy she often finds herself depressed over what happened In 2011. And wonders If It'll happen again. Download here! http://www.mediafire.com/download/xhs62zx9niqc096/LALA+UMI.zip       RULES: 
NC-17 (or "hentai") expression using this voicebank and/or character is forbidden.
Using this voicebank and/or character in the way of being offensive to public order and morals is forbidden.
Using this voicebank and/or character for religious activity is forbidden.
Make sure to write the name Mako 'LALA' Umi onto your work when using this voicebank and/or character. Also please credit UtauFlowers when using this character/voicebank.
Your acknowledgement is not necessarily required when using this voicebank and/or character, yet will be appreciated if given.
No restriction is imposed on altering and/or re-tuning this voicebank and distributing it. It is still expected that the author should be acknowledged of this.
Lala's Friends/co-workers
-Ami Ryo Fellow Blooming-loid
- Usa Okubyona Fellow Blooming-loid/crush
-Jiki  Best friend 
-Miyo Ogawane Friend/ Major Crush 
-Reiki Sakurane Friend/Woman crush! Uhuhuhu!:3
-Yui Kazene Friend/Thinks shes super pretty
-Kamoku Friend/LOVES her eyes
-Riku Kokka Good friend/thinks of him as a brother
Ad blocker interference detected!
Wikia is a free-to-use site that makes money from advertising. We have a modified experience for viewers using ad blockers

Wikia is not accessible if you've made further modifications. Remove the custom ad blocker rule(s) and the page will load as expected.