Makoto Oto


(Japanese: 音 誠 - まこと  おと- makoto oto)


NAME INTERPRETATION:
(Makoto; 

Sincerity; truth; faith

)
(Oto; sound)
TYPE: N/A
MODEL: N/A
GENDER
male
VOICE RANGE
N/A
RELATED CHARACTERS

Kimiko Hikawa (most awesome friend ever!)

watch her cover here:[[1]]

AGE
16-17
GENRE
Any
HOMEPAGE
N/A
WEIGHT
110
CHARACTER ITEM
teddy bear
CREATOR
theDsgamer123
HEIGHT / MEASUREMENTS
5'9
VOICE SOURCE

(david perales)

PICTURE LINK LIST
BIRTHDAY
november,29,2012
LIKES

teddy bears,onigiri!

MEDIA LIST
(youtube) theDsgamer123
RELEASE DATE
Dec 23, 2012
DISLIKES
anxiety!
SIGNATURE SONG

[[UTAU Remote Controller [oto makoto] [hikawa kimiko] ]]

[[UTAU Tell your world [Oto Makoto] ]]

[[UTAU Meltdown [oto makoto] ]]

PERSONALITY: you are free to make a personality for him, he is what ever the master/(YOU) wants him to be..

(have fun!)
photos of makoto: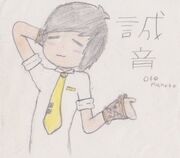 ----------------->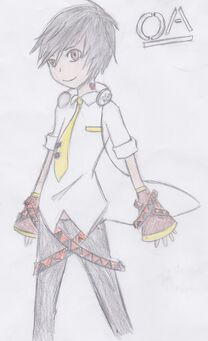 Supplemental Information
(utau is active, updated:8/09/14)
Hair color: black,long;short

Headgear: N/A
Eye color: brown
Earphones: white,utau synth-logo
clothe: callor shirt,rolled up sleeves,yellow tie,arm wormers with bets around it.
Nationality/Race: Hispanic.
Favorite phrase: "nani kore?!"

Download makoto's voicebank! (ACT 2 CV): Click here--->http://www.mediafire.com/?i5id2lmzl4gdtnj
makoto oto append (strong):TBA
makoto oto append (warm): TBA
Ad blocker interference detected!
Wikia is a free-to-use site that makes money from advertising. We have a modified experience for viewers using ad blockers

Wikia is not accessible if you've made further modifications. Remove the custom ad blocker rule(s) and the page will load as expected.