MANA MAKGUNE

(Japanese: MAKGU音マナ - まくぐねまな - Makgune Mana)

NAME INTERPRETATION:
Makgu音 (Makgune) - a play off of the Mac音 (Macne) series surname.
マナ (Mana) - inspired by Mana Potions in video games, but the name can mean "Supernatural."
TYPE: UTAU
MODEL: N/A
GENDER
Female
VOICE RANGE

B3 ~ D5

RELATED CHARACTERS

Machi Sukio (friend)
Zuii Takoe (friend)

AGE
15
GENRE
Pop, Ballade
HOMEPAGE
Makgune Mana voicebank distribution site
WEIGHT

"secret"

CHARACTER ITEM
Moon Pies
CREATOR
Shane
HEIGHT
5' 7" (

170.18cm)

VOICE SOURCE
Shane
PICTURE LINK LIST

(Art is by Yuu)

BIRTHDAY
May 20th, 1999
LIKES
Starbucks
MEDIA LIST
RELEASE DATE
Aug 7th, 2013
DISLIKES
Spiders and Rude people.
SIGNATURE SONG
N/A
PERSONALITY: Mana is a cheerful, outgoing American student learning Japanese. She is also polite around new people and isn't afraid to talk to them.
Supplemental Information
  Hair Color : Blonde
Headgear: Star Earrings
Eye color: Blue
Outfit: She wears a Blue shirt with a moon and frills at the top,a Dark Blue Skirt and White boots with Stars and ribbons on them.
Nationality/race: American
Slogan: "Give a smile, get a smile!"
      Favorite Phrase: "The Stars inspire me"
Voice Configuration
(NEW!) Makgune Mana GALAXY- Tripitch VCV Voicebank. Her voicebank is encoded in Romaji with Japanese aliases. She has SOLAR, LUNAR and Normal pitches combined to make a powerscale type voice. Her oto.ini was done by Kassie.
Makgune Mana ACT 4- Normal VCV UTAU configuration. Her voicebank is encoded in Romaji with Japanese aliases. Her oto.ini was done by SRS.
Download Links
(NEW!) Mana GALAXY Can be downloaded here from: this site
 Mana ACT 4 VCV can be downloaded here from: this site. 
Upcoming Voicebanks + Samples
Makgu音マナ「銀河」 (Galaxy)- A Strong Tripitch full VCV bank which utilizes her Normal, Solar and Lunar banks as pitches.
*Galaxy Sample*  - A test using all 3 of her banks and showing how her newly finished LUNAR pitch works.
This bank is almost near completion and will finally be released on her birthday on May 20th, 2015. Beta testing of the bank will be available soon and hopefully by the end of April.
VOICEBANK Download: https://soundcloud.com/shaneh121/makgune-mana-galaxy-release
Known facts about the bank: TIPS must be used or her Lunar will glitch up and hiccup.
Below is a concept sketch for her Galaxy design, drawn by Mishamoonkun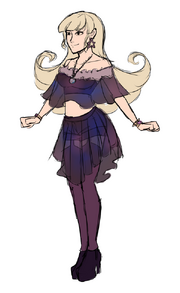 Makgu音マナ「ジョリー」(Jolly) - A mellow Dipitch CVVC Japanese bank.
She is complete and will be released soon, again if you would like to beta test contact Shane!
Below is Mana Jolly's official art drawn by Mishamoonkun
Makgune Mana English CV-VC Lite- An English bank to allow Mana to speak this language with ease.
Sample: Makgune Mana ENGLISH- One Last Time
Estimated Release: Postponed
The Voicebank was going to be scrapped, however there are a few covers of it out there to listen to.
If you would really like this voicebank, message ShaneH121.
Support
If there are any inquiries or problems with this bank or character please contact Shane.
You can contact him at:

This article is written and certified true and correct by the author of the character. The details seen here may be subject to change without prior notice.
Ad blocker interference detected!
Wikia is a free-to-use site that makes money from advertising. We have a modified experience for viewers using ad blockers

Wikia is not accessible if you've made further modifications. Remove the custom ad blocker rule(s) and the page will load as expected.