MARIA FUWA


(Japanese: 不破マリア - ふわまりあ - Fuwa Maria)

NAME INTERPRETATION:
不破 (Fuwa; Discord)
マリア (Maria; Sea of Sorrow) Also a latin variation of Mary.
TYPE: UTAU
MODEL: NONE
GENDER
Female
VOICE RANGE
D3~F#5
RELATED CHARACTERS
Mario Fuwa (Twin brother, duet partner)
AGE
16
GENRE
ANY
HOMEPAGE
776-UTAU
WEIGHT
SECRET
CHARACTER ITEM
Mountain Dew
CREATOR
nanaro
HEIGHT
5'5" (165 cm)
VOICE SOURCE
nanaro
PICTURE LINK LIST
CONCEPT ART, PIAPRO, PIXIV, DEVIANT ART, GELBOORU, GOOGLE IMAGE, PHOTOBUCKET
BIRTHDAY
April 4
LIKES
Art, manga, friends, drawing, the indoors, cute things, food, singing, peace
MEDIA LIST
NICO NICO DOUGA, YOUTUBE
RELEASE DATE
April 4, 2015
DISLIKES
Bitter food, bullies, mean and annoying people, blood, scary stuff
SIGNATURE SONG
Cherry Hunt
PERSONALITY: Maria tends to be shy around many people, but she is also optimistic and a pretty talkative person. And by talkative, a very talkative one, in which she'll bombard someone with tons of questions and comments. She's also a great conversation starter, and has a secret obsession with memes a lot.
Supplemental Information
Hair color: Black with sky blue highlights
Headgear: Purple ribbons
Eye color: Purple ​
Hobbies: Drawing, internet surfing, singing
Occupation: UTAU singer, artist, otaku, amateur video game programmer
Sexuality: Straight
Race: Human
Nationality: Japanese-Canadian
Blood Type: O+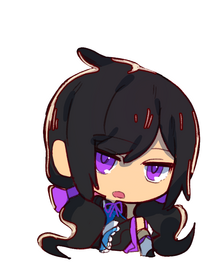 Voice Configuration
​Maria so far only has one voicebank available for download -- her latest powerscale VCV voicebank. Her monopitch CV and old VCV voicebanks have been retired in favour of her new voicebank. Future voicebanks are planned for the future.
EXTRA (v.1.1) - 3-pitch powerscale VCV with a powerful, feminine voice.
Facts
As an UTAU creation
Her former name was Ongaku Kaminari.​

She was developed during summer 2014, but was never released that year.
Her original voicebank got corrupted when her creator recorded her bank for the first time due to the "Append" button in UTAU, so she was rerecorded. That bank was never released to the public until her creator developed a clearer voicebank for her - tougouORIGINAL ACT1 CV.
As an OC
She has a fear of blood, and a passionate hate for bitter food.

Surprisingly enough, her first name means "bitter".
She is also a very picky food eater.

Is really an emotional person.
Screams on the inside 24/7.
Can sometimes act arrogant, albeit rarely.
Maria is 3/4 Japanese and 1/4 Filipino. This also applies to her twin brother Mario.
Quote: "So, what do you wanna talk about?"
Terms of Use
Please refer to this page.
Some details are based on existing information and usage experience. The details seen here may be subject to change without prior notice.
Ad blocker interference detected!
Wikia is a free-to-use site that makes money from advertising. We have a modified experience for viewers using ad blockers

Wikia is not accessible if you've made further modifications. Remove the custom ad blocker rule(s) and the page will load as expected.