Ad blocker interference detected!
Wikia is a free-to-use site that makes money from advertising. We have a modified experience for viewers using ad blockers

Wikia is not accessible if you've made further modifications. Remove the custom ad blocker rule(s) and the page will load as expected.
MARIO FUWA


(Japanese: 不破マリオ - ふわまりお - Fuwa Mario)

NAME INTERPRETATION:
不破 (Fuwa; Discord)

マリオ (Mario; Hammer) Also a latin variation of Mars.

TYPE: UTAU
MODEL: NONE
GENDER
Male
VOICE RANGE
Varies on Voicebank
RELATED CHARACTERS
Maria Fuwa (Twin sister, duet partner)

LORNE (Friend)

Hanzo Yamiga (Cousin)

AGE
16
GENRE
Any
HOMEPAGE
776-UTAU
WEIGHT
SECRET
CHARACTER ITEM
Doritos chips
CREATOR
776-chan
HEIGHT
5'7" (172 cm)
VOICE SOURCE
776-chan
PICTURE LINK LIST
CONCEPT ART, PIAPRO, PIXIV, DEVIANT ART, GELBOORU, GOOGLE IMAGE, PHOTOBUCKET
BIRTHDAY
April 4, XXXX
LIKES
Doritos, sports, strategies, adrenaline, sweet food, adventuring
MEDIA LIST
NICO NICO DOUGA, YOUTUBE
RELEASE DATE
April 4, 2015
DISLIKES
Homework, injuries, people who hurt his twin sister, failure, idiots, stupidity​
SIGNATURE SONG
118
PERSONALITY: Mario tends to act rude and careless most of the time, but when it comes to his twin sister Maria and company, he is the complete opposite, as he shows his kind personality to them. He can get a little flustered sometimes.
Supplemental Information
Hair color: Black with purple highlights
Headgear: A patch on his left cheek
Eye color: Blue
Nationality/Race: Japanese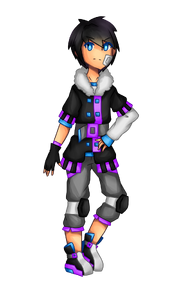 Voice Configuration
Please download his banks here. It is recommended that you download his VCV bank. Please note that in the future updates, his new banks will be multipitch VCV banks only. However, he will receive a final monopitch CV-VC bank and an English VCCV bank.
Facts
As an UTAU creation
Mario was actually meant to be the genderbent derivative of Maria Fuwa via g+ flags. However, he was eventually made into a fully-fledged UTAU instead.
In earlier concepts, he was meant to be butler UTAU, but that was scrapped due to the creator thinking it was too "weird" for him.
His former name was Odayakana Kaminari.
As an OC
He has the tendency to catch a fever once in a week. The thing is, he has a strong immune system so there's no reason on why this happens.
His left cheek (covered by his patch) is actually an e-spot.
There's a reason why he has a patch on his left cheek; if removed, all hell breaks loose as he turns berserk, and he will destroy anything that's in his way, but there is no exact reason for this. When berserk, his eyes turn bright blue (which can glow in the dark). If the patch is placed back on his left cheek after a long time of being berserk, he will go back to normal, but he will suffer a severe heartburn and a fever-ish sensation. The side-effect wears off over time.
His hobbies include parkour, video gaming, and adventuring.
Mario is very protective of Maria Fuwa (his twin sister); hurt her and he will beat you up.
For some reason he doesn't like being called by his first name, so he prefers to be called "Rio" instead.
Terms of Use
Please refer to this page.
Some details are based on existing information and usage experience. The details seen here may be subject to change without prior notice.