MARKO VUCEVIC


(Japanese: まるこゔけゔい - MARUKO VUKEVI)

NAME INTERPRETATION:
Unknown (A First Serbian Utauloid)
TYPE: Utauloid
MODEL: 50-XX
GENDER
Male
VOICE RANGE
UNKNOWN
RELATED CHARACTERS

Haruka Nana(Idol)

Sayu Yurika (Friend)

Vesna Vucevic(Mother)

Petar Vucevic(Father)

AGE
14
GENRE
Any
HOMEPAGE
Hotsushi-Kun
WEIGHT
156 lbs (71 kg)
CHARACTER ITEM
UNKNOWN
CREATOR
UNKNOWN
HEIGHT
15'8" (478 cm)
VOICE SOURCE
Aca Vukša
PICTURE LINK LIST
CONCEPT ART, PIAPRO, PIXIV, DEVIANT ART, GELBOORU, GOOGLE IMAGE, PHOTOBUCKET
BIRTHDAY
August 12, 1996
LIKES
Video Games,Sport
MEDIA LIST
NICO NICO DOUGA, YOUTUBE
RELEASE DATE
July 8, 2011
DISLIKES
Kaito & Meiko
SIGNATURE SONG
NONE
PERSONALITY: Marko Is A Normal Kid Who Likes Video Games & Sports,He Began His First Time To Attempt To Speak Japanese
Supplemental Information
Hair color: Green Hair
&nbsp Headgear: None
&nbsp Eye color: Red Hair
&nbsp Earphones: None
&nbsp Dress/Outfit: Black Outfit & T-Shirts
Nationality/Race: Serbian,Currently Lives in Japan.

Voice Configuration
His Voicebank Can Download At Here
http://www.mediafire.com/?p41zuq2t94z6n
His Voicebank are Encoded to Romaji Only.
ACT 2 Is Coming Soon.It is Assumed that he's will speak in Hiragana & Romaji
In Japan
In 16,November 2011,Marko Moved to Japan and Has Been Lived Here for the Rest of The Lives.
Marko meet Sayu Yurika,whom both of them we're became friends each other.
In,8 January 2012,Marko saw an Utauloid Called Haruka Nana and Started to Became an Idol of Her. In 9,March 2012,Vuksa Annouced that he will peform his first concert at UTAWO Cafe at California.
Marko currently Lives in Akihabara,Tokyo.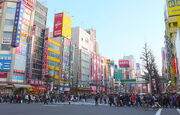 Ad blocker interference detected!
Wikia is a free-to-use site that makes money from advertising. We have a modified experience for viewers using ad blockers

Wikia is not accessible if you've made further modifications. Remove the custom ad blocker rule(s) and the page will load as expected.