Marley Mojine


(Japanese: マリ モジネ 

- マーリー もじね

)

ALIAS: -
NAME INTERPRETATION:


マーリー もじね

 (Mo-jee-nay) - Character sound (play on "emoji")
TYPE: Jukeloid (Characters that originally were to be jukeboxes but were given a voice later)
MODEL: -1
GENDER
Female
VOICE RANGE
E3-B4
RELATED CHARACTERS

Maverick Mojine (Mirror image)

(fellow Jukeloid)

(fellow Jukeloid)

AGE

16

GENRE
Any
HOMEPAGE
None
WEIGHT

Undisclosed

CHARACTER ITEM

Paintbrush (She has an undying love for the arts, and usually the brush has dried blue paint on the brush's tip.)

CREATOR
Marley Hatsune
HEIGHT / MEASUREMENTS
5'11" ft (180 cm)
VOICE SOURCE
Marley Hatsune
PICTURE LINK LIST
BIRTHDAY
Unknown
LIKES
The color blue, fuzzy things, kittens, puppies, any sort of drawing or painting, poetry, sleeping 
MEDIA LIST
YOUTUBE
RELEASE DATE
February 12, 2014
DISLIKES
When her creator doesn't give her any sort of updates often, being woken up, people dissing her work whether it is art or music.
SIGNATURE SONG
None
PERSONALITY: Marley Mojine is very outgoing. She can come off as a tsundere, but enjoys good company. She can be very rude at times, especially when it comes to getting what she wants. You'll probably see her whacking her creator over the head with some sort of object occasionally when she doesn't get her way or needs something, because her creator is very lazy and has only given her a model update instead of a voicebank update. She is often referred to as "Moj'" or "Mojine", for her creator and her share names for multiple reasons. She can be very aggressive towards people that make her mad and will stop at nothing to see them get taken down. Mojine loves painting and drawing when she's not making music. She also enjoys nice long naps. While she is rude at times, she usually is very kind and sweet toward people she likes.
Supplemental Information
Hair color: Brown
Headgear: A Blue visior
Eye color: Blue
Earphones: none depicted
Dress: A blue cardigan with a red play button clasp with black along the edges, a black dress with blue trim around the skirt, black knee length leggings with black trim around the bottom, and brown boots.
Nationality/Race: American

Voice Configuration
If there are any syllables missing, please contact Marley Hatsune via her youtube and she will update the download and redistribute the bank. There are a few syllables that refuse to sound of good quality, so if you hear them when you use her bank, please add to a list on the page under this section.
MikuMikuDance
Marley Mojine has a TDA MikuMikuDance model that was made by Marley Hatsune/FullmetalHeartedGirl. She can be downloaded here
Please do not edit or redistribute the model, and credit either FullmetalHeartedGirl@deviantart or Marley Hatsune (both are the same person, just under different usernames.)
Voicebank Download
ACT1 Voicebank (aliased to romaji and otoed by ClearlyMachine) can be downloaded here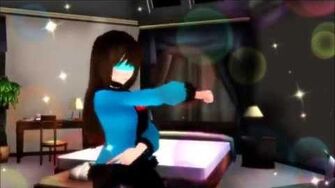 The video to the side is one of her more recent videos as of the last update, which is a cover of Eh, Ah Sou, featuring her MikuMikuDance model for distribution above.
Facts/Trivia
Born under the sign of Picses
She has an undying fear of thunderstorms
Her voicebank was originally shared with her Mirror, Maverick Mojine, but he was given a new voicebank. It says in her ACT1 Voicebank for distribution how to edit USTs to make it sound like Maverick though!
Part of the reason why Marley Mojine shares her first name with her creator is because Marley Mojine used to be a Vocaloid OC, often referred to as a "Failed Vocaloid" that was related to Hatsune Miku. She was used as a roleplay character with a friend of her creator, Peter. Her original name was supposed to be "Marley Hatsune", but due to the fact she would be treated unfairly and get a bad rap for using a vocaloid's last name, her name was changed to it's current, Mojine.
Marley Mojine has been featured in over 15 songs as of the last update.
She is basically a mini me for Marley Hatsune, just more violent. As such, she has asthma, social anxiety, and rather low stamina.
As a student in school, her best subjects are in the arts, though she also enjoys poetry.
She enjoys playing solitaire on her visor. While it is like a computer screen, it also acts like glasses.
Rules/Guidelines for usage
Do NOT edit the bank in any way (aliasing is the only exception. No pitching or anything like that.)
Credit Marley Hatsune (youtube) or FullmetalHeartedGirl (deviantart) when using the design or bank for the character in any way shape or form.
Genderbending isn't necessary, for there is a mirror image for the character already.
NSFW/Hentai/Obscenities are permitted, just be mindful of where it is posted
Though it isn't required, please send your works to Marley Hatsune/FullmetalHeartedgirl so she can appreciate your works!

This article is written and certified true and correct by the author of the character. The details seen here may be subject to change without prior notice.
Ad blocker interference detected!
Wikia is a free-to-use site that makes money from advertising. We have a modified experience for viewers using ad blockers

Wikia is not accessible if you've made further modifications. Remove the custom ad blocker rule(s) and the page will load as expected.