| | | |
| --- | --- | --- |
| | | (Japanese: 成美 和 - Masami Hono) |

NAME INTERPRETATION:

Hono: 和 means "harmony" (using an obscure nanori reading)

Masami: 成美 means (成 (masa) "become" and 美 (mi) "beautiful".)

TYPE: Harmoloid (UTAUloid)

MODEL: No model

GENDER
Male
VOICE RANGE
B2~E4
RELATED CHARACTERS
AGE
16
GENRE
Unknown
HOMEPAGE
None
WEIGHT
112 lbs

(50.8 kg)

CHARACTER ITEM
Keytar and Sun pillow
CREATOR
Hono-Harmony
HEIGHT
5'6ft
VOICE SOURCE
Aki,

Masami Honoka, with g+15-18 flag (Hono-Harmony)

PICTURE LINK LIST
Tumblr
BIRTHDAY
Dec/18/2013 (by design date)
LIKES
Morning, video games, cities, dogs, and coffee
MEDIA LIST
Ask Blog
RELEASE DATE
Unknown
DISLIKES
Night time, nature, cats
SIGNATURE SONG
None
PERSONALITY: Hono is LAZY. Yes, this kid can't do anything without one complaint about him being tired. He is the older fraternal twin. He likes the morning, often waking up early to watch the sun rise and have a cup of coffee (his favourite). He is a kuudere. He likes to play the keytar alone in his room. He games ALL the time and is a computer wiz. He doesn't really like nature and is better off in the city. He is protective of the girls in the house (Honoka, Kazue, and Takara, but not so much Gizmo since she's a war-bot). He likes dogs better than cats. He keeps his sun pillow in his room, but hides it in the closet because he feels that that's shotaish and only brings it out at night. Honoka and Hono are very alike sometimes. He is more clever than Honoka.
Supplemental Information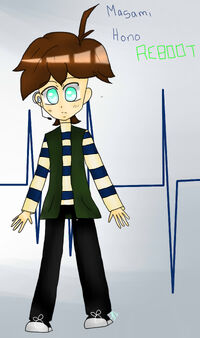 Hair Color: Brown
Eye Color: Mint green
Earphones: White earpiece (on right ear) with mic
Clothes: Green, black, cream and blue
Nationality/Race: Canadian-Japanese
Voice Configuration
To get Hono's voice, the flag g+12 must be used on Masami Honoka's voicebanks, his voice source/genderbend. (This flag can be altered between g+10 to 15.)
Please download the Act2 CV-VV Japanese voicebank here.
Download the CV-VV Japanese THUNDER Append voicebank here.
Download the CV-VV Japanese RELAX Append voicebank here.
Download the VCV Monopitch Japanese voicebank here,
Usage Clause
This voicebank is free, not for sale
Not for commercial use
Fan made music and artwork are completely acceptable
Masami Hono's voicebank and character avatar may not be portrayed in any pornographic situation
May NOT be used for specifically spreading a political or religious message. However, traditional anthems are perfectly acceptable.

This article is certified true and correct by the UTAUs' creator. The details seen here may be subject to change without prior notice.
Ad blocker interference detected!
Wikia is a free-to-use site that makes money from advertising. We have a modified experience for viewers using ad blockers

Wikia is not accessible if you've made further modifications. Remove the custom ad blocker rule(s) and the page will load as expected.