MAVERICK MOJINE


(Japanese: モジネ マvウリク - もじねマーヴェリック)

NAME INTERPRETATION:
もじね (mo-jee-nay) - Character sound (play on "emoji")
TYPE: Jukeloid - (Characters that were originally were to be jukeboxes but were given a voice later)
MODEL: -1
GENDER
Male
VOICE RANGE
TBA
RELATED CHARACTERS

Marley Mojine (Mirror Image)

Amai Kishimune (Fellow Jukeloid)

Kaeru Kerone (Fellow Jukeloid/possible love interest)

AGE
16
GENRE
Any
HOMEPAGE
The Jukeloid Family's Tumblr
WEIGHT
150 lbs (68 kg)
CHARACTER ITEM
Paintbrush/Remote control
CREATOR
Marley Hatsune
HEIGHT
6'1" (185 cm)
VOICE SOURCE
Marley Hatsune
PICTURE LINK LIST
BIRTHDAY
Unkown
LIKES
Video games, sleeping, doodling, picking on Marley Mojine, blue
MEDIA LIST
All covers from the Jukeloid Family
RELEASE DATE
UNKNOWN
DISLIKES
Noisy or stubborn people, know-it-alls, outdoors, being woken up,
SIGNATURE SONG
N/A
PERSONALITY: Maverick Mojine is the mirror image of Marley Mojine, with a few tweaks. He prefers video games over drawing. He enjoys singing, but he's not so into is as his female image. He and Marley Mojine can be treated as either siblings or a couple, for Maverick is still rather protective of his more aggressive counterpart. He is very laid back and he's extremely friendly. He has a heart of gold and doesn't really determine enemies until they start being rude toward him or people he cares about. Can be very sarcastic.
Supplemental Information
Hair color: Brown
Headgear: Blue Visor
Eye color: Blue
Earphones: None Depicted
Dress/Outfit: A black T-shirt, gray jeans, a gray belt with the play button design on the buckle, and converse boots. (This is only temporary, for he will get an updated design upon bank release)
Others: Usually depicted with a Blue and black beaded bracelet, and the blue beads glow.
Nationality/Race: American

Voice Configuration
Act1 CV Bank: here
Notes:
If unclear, set consonant velocity to 180.
Set to g+5 and take USTs down an octave for best sound
Some syllables are slightly slurred.
Artwork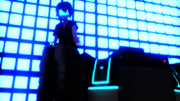 Facts/Trivia
Like Marley Mojine, he is under the sign of picses.
His creation was originally unintended, for Marley Mojine was only supposed to be one without a mirror. But her debut song was a duet, so Maverick was hurriedly created to fill the open role.
Maverick would probably be at his happiest being a shut in, which he basically does. He only goes out if he has to go to school or if he's forced out to be social. He also has social anxiety, so he likes staying at home and just doing things from home.
While his visor works like a computer screen, they also work like glasses. Thus, he can normally be found playing video game emulators on his visor. Mostly Nintendo emulators.
Rules/Guidelines of Usage
Do not pitch this bank in any way
Genderbending isn't necessary due to the fact he was created from a female character
R18/NSFW/Obscenities are allow, just be mindful of where you post it.
Credit Marley Hatsune/FullmetalHeartedGirl when the character is used in any way
Though it isn't necessary, FullmetalHeartedGirl would love to see what you do with him!
This article is written and certified true and correct by the author of the character. The details seen here may be subject to change without prior notice.
Ad blocker interference detected!
Wikia is a free-to-use site that makes money from advertising. We have a modified experience for viewers using ad blockers

Wikia is not accessible if you've made further modifications. Remove the custom ad blocker rule(s) and the page will load as expected.