| | | |
| --- | --- | --- |
| | | MeMu |

NAME INTERPRETATION: MeMu, Memory/Me and Music

TYPE: UTAUloid / CR1Loid / 'SHINKULoid - CRIMSONLoid

MODEL:  M-DC143C (Crimson: Hex triplet DC143C)

GENDER

Male

VOICE RANGE
F3 ~ C6 (Recomended)
RELATED CHARACTERS

Fuyumi Shinkune(His 'Big sis' Also a CR1Loid)

Kladd Bräda(scared of him due to his height) 

AGE

12

GENRE
All (Though his voice is not that suited for rock)
HOMEPAGE
NONE
WEIGHT
39 kg
CHARACTER ITEM
A teddy bear backpack
CREATOR
Crimson
HEIGHT / MEASUREMENTS
149 cm
VOICE SOURCE
Crimson
PICTURE LINK LIST
BIRTHDAY
14th February
LIKES

Teddy bears, candy, singing

MEDIA LIST
RELEASE DATE

MeMu ACT 1: February 20

APPEND (Strong): May 19

DISLIKES

Dogs, water, spicy food and fire

SIGNATURE SONG
NONE

PERSONALITY: Memu is a very happy and energic boy, he may be a bit shy at first but he really enjoys meeting new friends. He is almost never sad and is always by your side to cheer you up, but he's not afraid to speak his mind and can be a bit naive some times. Some tease him by calling him girly or shota, but he still thinks he is manly enough to be man. Though some can't even see if he is a boy or a girl.
Character Design
Hair color: Blonde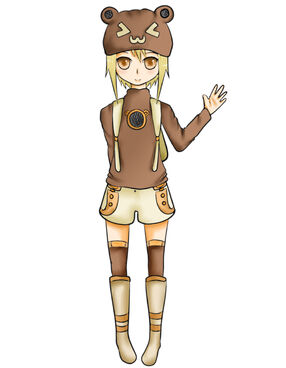 Eye color: Orange
Outfit: brown shirt with a speaker at front. It is connected to his backpack who works as a battery. White/Yellow shorts with two belts connected to his backpack.A handsewn brown teddy bear hat and White/yellow boots.
Earphones: UNKNOWN - Connected to his hat.
Nationality: Swedish/Japanese (Sings is Japanese)
Voice Configuration
Download ACT 1: HERE
Download APPEND: HERE
Genderbend
MeMo: Set the gflag to +10
(Boyish version - Could also be used for a more mature voice)
MiMu: Set the gflag to -8 
(Mini MeMu/MiMu - Bad for low notes)
Trivia
He hates swimming.
He is good at drawing.
He loves sweet food and candy.
He can't stand spicy food.
He is really afraid of fire.
He is a Shota/trap.
His favorite color is yellow.
He love teddy bears.
Usage Clause
Do not use his Voicebank for commercial use.
Do not claim him as yours.
Do not edit his voicebank.
Credit me - Crimson, if you use his Voicebank.
You may contact me on Youtube. I go by the name CrimsonRedSound
Please do not change anything in this article without permission. It is written by the creator of MeMu.
Ad blocker interference detected!
Wikia is a free-to-use site that makes money from advertising. We have a modified experience for viewers using ad blockers

Wikia is not accessible if you've made further modifications. Remove the custom ad blocker rule(s) and the page will load as expected.