Megao
Talk

0
4,268pages on
this wiki
NAME INTERPRETATION:

メガオ(Megao ; Your eyes [Written in Katakana] )

TYPE: HOODIEloids

MODEL: HOOD-20 or 16x (20th of HOODIEloids series)

GENDER
Female
VOICE RANGE
B2~G4
RELATED CHARACTERS

See relation character

AGE
16(On 2013)
GENRE
Anything that suits her
HOMEPAGE

-Blog: The x Files

WEIGHT
UNKNOWN
CHARACTER ITEM
White sword and Oreo/blueberry cheesecake
CREATOR
Sililos Sea
HEIGHT / MEASUREMENTS
156 cm
VOICE SOURCE
Sililos Sea
PICTURE LINK LIST
DeviantART
BIRTHDAY
16 august
LIKES
sweet cakes,  watching romantic dramas
MEDIA LIST
DeviantART
RELEASE DATE

september 1,2012

DISLIKE
Horror movies and dolls
SIGNATURE SONG
NONE

PERSONALITY: She's a bit boyish and carefree type. She has a surname "Oreno(オレノ : Target colour)" but she doesn't use it in some reasons. 
Supplemental InformationEdit
Hair color: Yellow
Eye color: Purple/Violet
Earphones: Red and white
Nationality/Race: Indonesian-Japanese
Favorite phrase: "Gimme cheesecake!"
Related CharacterEdit
--
Karai Minage (?;Fellow The X File products)
Meath (Male counterpart;Fellow The X File products)
Empat SerangkaiEdit
Fellow HOODIEloidsEdit
Usagi
Ao Tamashi
Natsuno Kyou
Yuki Samui
Kirei Oheina
Mushi
Voice ConfigurationEdit
FIXED ACT2 (Some samples are fixed and the frq has been re-instalized)
- ​Flags: g+1BRE5Y50c99
Megao's GenderbendEdit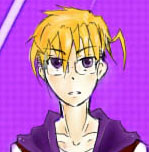 Michael(ミカエル[readed as mika-el])
Age: 16(His birthday is same as Megao's.)
Weight and Height: UNKNOWN;178 cm
Character item: Meat and a bamboo stick
Voice Confirguration: g+8BRE10Y50c99
INFO: He's a carefree and an easy going utau. He is considered as the person who knows about Minage and Megao's past. His model is 17x.
Refrence sheet -> [Link]
Related CharacterEdit
​--
Minage Karai (Fellow The X File products;Friend)
Megao (Fellow The X File products;Female counterpart)
Megao's Facts/Additional info:
She's the second utau from sea's utau group, the x files.
Nichiko is megao's younger sister, but she's from different mother.
Megao has a boy-nor-girl voice type. She's mainly used for normal songs exept the girly ones and sometimes she can take the boy's part in dueting with other utau(s).
Because of megao has a bad memory of her past, she hates minage. A story of her past are planned to be created in the future for futher explanation in her past.
Meath's Facts/Additional info:
He's the third utau from sea's utau group, the x files(even though he's a genderbender, sea thinks that he's not a genderbender.)
His real name is Meath(ミツ;mitsu) but the author wants to pick a stage name for him as michael(ミカエル;Mikaeru, spelled as mika-el).
Megao is his female countepart, his voice is taken from megao's fixed act2 with 

g+8BRE10 flag.

Because he's a genderbender, sea felt unsatisfied with his voice because his voice is taken from flags. His own voicebank are planned to be created soon.
He likes to eat grilled meat.
Usage ClauseEdit
Contact the author first if you want to make something with her such as pairings
You can use her voicebank freely but please CREDIT to the author if you created a cover with them.
She is not for COMMERCIAL USE
DO NOT make her to say bad words
Oto editing is allowed, but tell the author first.
The contents of this page is subject to change without prior notice and can be changed by the author, Sililos Sea/Sea