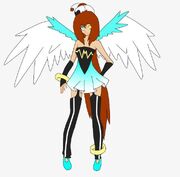 Mery Kagura is a Spanish free voice from UTAU.
Data
Name: Mery
Surname: Kagura (it isn't the real surname)
age: 128
weight: 45kg
height: 140 cm
breed: angel type warrior
Voice:  http://www.mediafire.com/download/0ua6pzzmcvmbd55/Mery+Act2.rar
History
Mery was born in odísia, a heavenly paradise inhabited by angels and more mythical creatures. His life was calm until one day, a member of odísia was located on earth, someone who was her family, and was custom look, capture it, and bring it back to Odisia, so Mery descended to earth to find that secret angel.
Finish sorry for the bad English of this article, i have a bad english