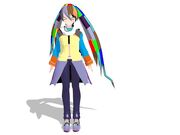 Name:Tashoku Metarune
Tashoku - colorful
Metaru - metal
ne - sound
Age : ???
TYPE:Akumaloid
MODEL:T-00 (Tashoku 00)
GENDER : hermaphrodite
VOICE RANGE :C1~C6
RELATED CHARACTERS :  Metarune Yoru(elder sister) Metarune Naito(elder brother)
CREATOR and  VOICE SOURCE  : Toroneko aka neko
Supplemental Information : does not have official appearance, or is depicted as colored Yoru
Voice Configuration:
Flags : no formal filter
Media
Ad blocker interference detected!
Wikia is a free-to-use site that makes money from advertising. We have a modified experience for viewers using ad blockers

Wikia is not accessible if you've made further modifications. Remove the custom ad blocker rule(s) and the page will load as expected.