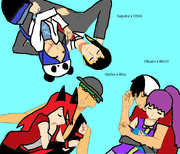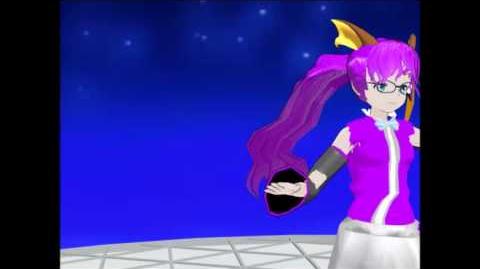 Japanese Name:
First Name:Michi
Last Name:Yuko

TYPE: Cheetahloid
Michi is a custom made Utauloid
GENDER: Female
RELATED CHARACTERS/Are Utau Family:
Utshi Utskii- OlderSister
http://utau.wikia.com/wiki/Utshi_Utskii?action=edit
Tesune Rizu-Friend
http://utau.wikia.com/wiki/Tesune_Rizu?action=edit
Desho Hiruni- Friend
Aki atari- Little Sister
Micho Yuko- Male counterpart
Okami Koinu-Friend
Supaka hanashi-Friend
Tengoku Hyo-Friend
Kimyona Hikari-Friend
Tasha Hari- Mom
AGE: 12 years
VOICE RANGE:
WEIGHT: 100 lb
CHARACTER ITEM: volleyball
CREATOR: MikuMikuCheetah
VOICED BY: Amanda Bergeon
HEIGHT: 5.0 ft
BIRTHDAY: April 28th
LIKES: Sports And School
DISLIKES: Dirt
RELEASE DATE: July 5,2013
SIGNATURE SONG: Dancing Samari (cover)
PERSONALITY: Michi Yuko likes to be active by riding horses, biking, playing with her siter Aki Atari, and playing outside.MIchi also likes to play on her kindle fire before bed.
Plese go to this youtube channel to veiw videos by Michi Yuko youtube.com/user/MikuMikuCheetah?feature=watch
Voicebank Download:http://www.mediafire.com/download/jev0eokqu5r1yrs/Michi_Yuko.zip
Supplemental Information
Hair color: Purple Eye color: Light Blue
Clothing: Michi Wears A Grey Skirt With A Purple Bow Her Shirt Is Purple With A White And Blue Bow With A Strip Going Down the Shirt She Also Wears Coverse And Miku Like Glooves With Purple Outline She Also Wears Glasses
Hair Style: Staderd Bangs With A PonyTail In the Back
Nationality/Race: A Raichu And A Human
CatchPhrase: Get Outside And Play
Favorite Phrase: Exerseize Your But Off
Fun facts
Michi Prefers To Dance And Sing With Aki Atari Michi Likes To Sing Both low And High
Usage Clause
you CAN edit her BUT only to fix her Hair (MMD Model) You CAN'T redistributte
You CAN'T claim as your own
You CAN make another (Ex. tda Append, Onepeice, TDA) model with my permission
you CAn make art of Michi Yuko
You CAN have fun with Michi yuko
Ad blocker interference detected!
Wikia is a free-to-use site that makes money from advertising. We have a modified experience for viewers using ad blockers

Wikia is not accessible if you've made further modifications. Remove the custom ad blocker rule(s) and the page will load as expected.