MIKAZUKI KIREINE
(Japanese: 三日月 綺麗ね/ みかずき きれいね / Mikazuki Kireine)
NAME INTERPRETATION:
三日月/みかずき/Mikazuki : Crescent Moon
綺麗/きれい/Kirei: Beauty
ね/ne: Sound
TYPE : UTAUloid
MODEL : INA-'13 (INA means Indonesia while '13 is a number from year '2013', when Mika officially change her outfit)
GENDER
Female
VOICE RANGE
E1~F5
RELATED CHARACTER

(Friend)

(Rival/Enemy)

AGE
14 Years Old
GENRE
Techno
HOMEPAGE
NONE
WEIGHT
35 Kg
CHARACTER ITEM
Mirror
CREATOR
Mizucchi
HEIGHT
148 cm
VOICE SOURCE
Mizucchi
PICTURE LINK LIST
NONE 
BIRTHDAY
August 20
LIKES

Cake, Chocolate, Candy, Sweet, cute & girly things

MEDIA LIST
SOUNDCLOUD
RELEASE DATE
June 

17th 

DISLIKES
Black Magic, Ghost, Frightening Things
SIGNATURE SONG
ARTIFICIAL ENEMY
PERSONALITY : Mika is a cheerful feminine-girl, she loves many girly things especially about fashion. She likes to hanging out for shopping. Mika is a very patient person, but when someone break her things she can be very angry.She always bring her mirror everywhere and everytime in any chance.But Mika isn't really like something about ghost, dark magic or horror-mysterical things.She think that things like those are too scary for girls (including her). That's why she always arguing with her friend's cousin, Akai Kurone.
Supplemental Info
Hair Colour : Blue

Headphones : -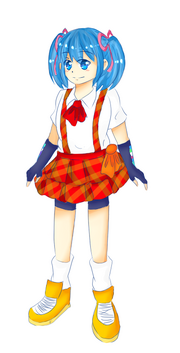 Eye Colour : Light-Blue
Shoes ; Orange
Dress : The evolution of School-Uniform
Sleeves : -
Nationally/Race : Indonesian-Japan
Favorite Phrase : "....I want to be a feminine girl!"
Voice Configuration
Wanna to download her VB?!?
(VERY OLD)
(RECOMMEND)
Usage Clause
There are some rules, which you MUST understanding~
DO NOT redistribute her voicebank WITHOUT author's permission 
DO NOT make her sing ethnic/religious/racial/ism/bad meaning/hardcore themed
DO NOT take or steal her voicebank and design
Avoid any mary-sues
Voicebank are free. Not for sell. If someone is illegaly sell her voicebank, tell me
Feel free to use her, as long as it follows UTAU rules of usage
Don't forget to credits to me if you were using Mika's VB

If you have some questions feel free to ask me here