MIKIKO CHUMOKU


(Japanese: 美姫子注目 - みきこちゅもく - Mikiko Chumoku)

NAME INTERPRETATION:
Beautiful princess child. (Mikiko; Mikiko Chumoku) - Kanji for beautiful, princess, child, and attention.
TYPE: Shikiloid
MODEL: NONE
GENDER
Female
VOICE RANGE
C2-C4 (She can be manipulated to fit other pitches, though.)
RELATED CHARACTERS
AGE
18
GENRE
None specifically.
HOMEPAGE
[abandoned]
WEIGHT
130 lbs

(59 kg)

CHARACTER ITEM
Staff (She carries her mini staff everywhere. Makes her feel important.)
CREATOR
[abandoned]
HEIGHT
5'8" (173 cm)
VOICE SOURCE
Akihiko Chumoku (She is a pitchbend of Akihiko Chumoku.)
PICTURE LINK LIST
CONCEPT ART , PIAPRO, PIXIV, DEVIANT ART, GELBOORU, GOOGLE IMAGE, PHOTOBUCKET
BIRTHDAY
July 17, 1995
LIKES
Sweets, her brother, reading, taking walks.
MEDIA LIST
NICO NICO DOUGA, YOUTUBE
RELEASE DATE
October 1, 2013
DISLIKES
Sour food, spicy food, bitter food, pointless drama.
SIGNATURE SONG
Rolling Girl
PERSONALITY: Like her brother, she's a mix of himedere-type and kuudere-type, though her kuudere-type side is more dominant. She doesn't like to be much of the center of attention, but if she is she loves it. She tends not to show any real emotion.
Supplemental Information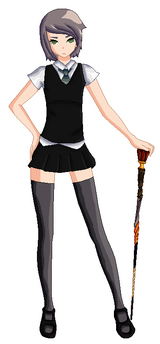 Hair color: Dusty brownish-purple, kept nicely, like her brother's.
Headgear: None.
Eye color: Green.
Earphones: None.
Dress/Outfit: She wears a short sleeved white dress shirt, and over top of that she wears a black vest with a turquoise-green tie. She also wears a dark grey skirt and thigh high grey socks, with black maryjanes as shoes. Others: None. Nationality/Race: Presumably Japanese.

Voice Configuration
She isn't oto'd, and has no oto.ini files. Her bank is the same as Akihiko Chumoku , you get her voice by adding the flag g-30.
A link to the voicebank is on his wiki.
Some details are based on existing information and usage experience. The details seen here may be subject to change without prior notice.
Ad blocker interference detected!
Wikia is a free-to-use site that makes money from advertising. We have a modified experience for viewers using ad blockers

Wikia is not accessible if you've made further modifications. Remove the custom ad blocker rule(s) and the page will load as expected.