| | |
| --- | --- |
| |  Japanese: ミングポイッド タカラ, mingupoiddo takara |

Name Interpretation:

Takara (タカラ) - "Treasure"

Mingpoid (ミングポイッド) - Based off of Izzii's surname

GENDER
Female
VOICE RANGE
See Voicebank Configuration
RELATED CHARACTERS
Mingpoid Katara (PLANNED BUT NOT IN PROGRESS)
AGE
13
GENRE
Adaptable
HOMEPAGE
N/A
WEIGHT
47kg (103lbs)
CHARACTER ITEM
Eyepatch with pink star
CREATOR
HylianIzzii/Izzii
HEIGHT
167cm (5'6")
VOICE SOURCE
HylianIzzii/Izzii
PICTURE LINK LIST

N/A

BIRTHDAY
May 17
LIKES
Spicy foods, cats, tea
MEDIA LIST
RELEASE DATE
N/A
DISLIKES
Most sweets, coffee
SIGNATURE SONG
Headphone Actor
PERSONALITY: Takara rarely speaks to people she doesn't know. She is most talkative to her brother, but most people would still consider this quiet. Surprisingly, she is not as shy when singing, so listen while you can; that's the most you'll get out of her. She does not smile much, but her brother likes to make a big deal about it when she does, in which he earns himself a punch to the nose. Takara is known to be really scary when angered or embarrassed, almost giving off a dark aura according to witnesses. She also has a strange relationship with animals, especially cats. It's almost like she can understand them. Her brother leans more towards dogs, but despite his efforts, can't seem to get a word out of them.
Supplemental Information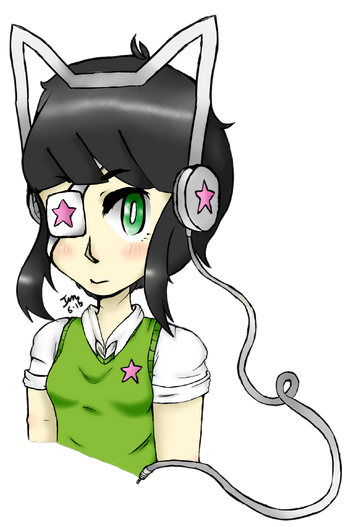 *SOON TO BE REVISED WITH HER NEW VOICEBANK!*
Hair style: Short black hair with long sidebangs and straight-across bangs.
Eye color: Forest green.
Headgear: White eyepatch with pink star over right eye.
Headphones: White with cat ear-shaped points on headband.
Outfit: Lime green sweater vest with pink star on right breast, short-sleeved white dress shirt underneath, black mid-thigh length shorts, 'white knee-high socks with pink stripe, 'black Mary Janes with pink star buckle and pink soles.
Nationality/Race: Japanese
Image Gallery
Do not add photos to this gallery without permission.
Voicebank Configuration
Mingpoid Takara BETA
Type: VC
Range: C3~E6
Created: May 17, 2015
Download: UNAVAILABLE
**This voicebank was lost to the creator's computer during a reboot on June 8, 2015, and is not planned on being remade.**
Sample:
Mingpoid Takara ACT 1
Type: VCV
Range: UNAVAILABLE
Created: IN PROGRESS (HIATUS)
Download: UNAVAILABLE
Sample: UNAVAILABLE
Usage Clause
Once released, the owner has given all downloaders permission to use the voicebank freely (commercially or privately) as long as proper credit is given.
However, downloaders may NOT:
Use this voicebank illegally/against the rules of UTAU.
Use this voicebank in any way to spread hatefulness or an innapropriate message.This includes racism, sexism, religious persecution, and others I may not have listed. The only exception to this is if a song contains these themes for artistic or story purposes. If your intention is to abuse or use degradation against others, I do not allow you to use this voicebank.
Claim to be HylianIzzii/Izzii, claim to have made this voicebank, use any of its visual designs as your own, or use any of its voice clips as your own.
Redistribute this voicebank in exchange for any form of currency. This includes artificial currency such as DeviantArt Points or in-game currency.
Edit any of the voice clips or delete/add in your own voice clips.
Modify the oto.ini files for commercial use. You may only modify the oto.ini files for personal use.
Thank you for following the rules, and I hope you have fun using this voicebank! -Izzii
Ad blocker interference detected!
Wikia is a free-to-use site that makes money from advertising. We have a modified experience for viewers using ad blockers

Wikia is not accessible if you've made further modifications. Remove the custom ad blocker rule(s) and the page will load as expected.