Ad blocker interference detected!
Wikia is a free-to-use site that makes money from advertising. We have a modified experience for viewers using ad blockers

Wikia is not accessible if you've made further modifications. Remove the custom ad blocker rule(s) and the page will load as expected.
 

MIRAI RAI


(Japanese: actualy his name wasn't from japanese)

NAME INTERPRETATION:
mirai (Mie : his master favorite food,"noodle".indonesian people say "mie" like "mi") 

rai(Rai : his master name)

TYPE: UTAU.ID
MODEL: ID.01
GENDER
Male
VOICE RANGE
F#2 - F4
RELATED CHARACTERS

renji takuma (hatsune miku stalker fellow)

kofuku mirai (childhood friend)

ameto (childhood friend)

kaon yuutsuu  (frienemy)

tadayone mai (friend)

AGE
15
GENRE
DANGDUT!!!!!!!!!!!! i hope so 
HOMEPAGE
youtube
WEIGHT
51
CHARACTER ITEM
TV
CREATOR
Rai akbar
HEIGHT

he punch me when i ask his height

VOICE SOURCE
Rai akbar
PICTURE LINK LIST
deviant art
BIRTHDAY

22 october

LIKES

cilok,hatsune miku,miku hatsune,miku,hatsune,kasane teto

MEDIA LIST
RELEASE DATE
unknown
DISLIKES

crowd

KAITO

ROOOOOOOOOOOOOOOOK

SIGNATURE SONG

personality : he has a naughty child personality




P.S:rai is a ghost
Supplemental Information
Hair color:
 white
Eye color:
 blue
Dress:
 has a blue vest with a jacket pocket,a white sweater,& a not to short pants with 2 blue strips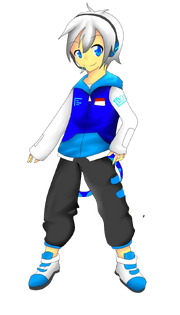 Nationality/Race:
 indonesia
mirai isn't from japanese language but from "mie" (in indonesia means noodle) & rai (his master name)
Voice Configuration
download his VB:
(CV hiragana & romaji,indonesia language aren't included)
-act 2
(CV hiragana & romaji indonesia language included,still on project)
-original
(VCV & CV,hiragana & romaji,indonesia language included,still on project)
keep check this wiki for more update about mirai rai
 This article is written and certified true and correct by the author of the character. The details seen here may be subject to change without prior notice.