NOTE: THIS VOICEBANK HAS BEEN DISCONTINUED. PLEASE SEE MITSUKI HANEI ONCE WE GET HER WIKI PAGE UP AND RUNNING.
MITSUKI AKARA

(Japanese: アカラ みつき  - Mitsuki Akara)

NAME INTERPRETATION:

アカラ- made from the words "red" (aka) and "rose" (bara)

みつき- when written in kanji translates loosely to "three moons".

TYPE: VKLOID - A group of UTAUloids voiced by vkunicorn or friends of vkunicorn

MODEL: 02 - Second VKLOID

GENDER
Android, modeled after a female
VOICE RANGE
unknown
RELATED CHARACTERS

Reyo Karase- (best and only friend)

Kervin Derpface- (uhhhh)

AGE
16
GENRE
Whatever she wants
HOMEPAGE
None
WEIGHT
 115 lbs
CHARACTER ITEM
Chainsaw, Horror Book
CREATOR
Monkey2601
HEIGHT / MEASUREMENTS
5'7"
VOICE SOURCE
Monkey2601
PICTURE LINK LIST
None
BIRTHDAY

September 12th, 2012(ACT1 release date) 

LIKES
Reyo, Chainsaws, Hiding and listening to music
MEDIA LIST-
None
RELEASE DATE
See birthday
DISLIKES
♙eople touchin the box
SIGNATURE SONGS
None

PERSONALITY: Mitsuki is a shy girl at first, but once you get to know her, she is a wonderful friend. She is a bit introverted and quiet. Mitsuki frequently scares people away when they first meet her. She tends to be antisocial. Her closest (and only) friend is Reyo Karase, who understands her. Mitsuki does have a tendency to use her ice power once in a while if she becomes mad. Or she will hide in her cardboard box for a few weeks or months.
Supplemental Information
Clothes: An ice blue top cut in an upside down V shape on the bottom. Accented by a purple ribbon. Her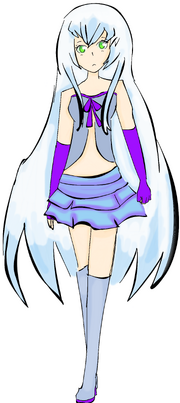 boots are knee length and ice blue, with a purple heel and sole.
Headgear: N/A
Armband: Purple. Fingerless and covers forearm.
Hair: Ice blue that gradients into a darker blue at the tips.
Eyes: green
ACT1
Mitsuki's ACT 1 is extremely glitchy and will be fixed by Monkey2601 and vkunicorn ASAP Her ACT1 was lost in the Great Computer Crash and will never be recovered.
ACT2
Mitsuki's ACT2 was recovered off Monkey2601's computer and edited by vkunicorn. Her demo can be heard here!
ACT3
MItsuki's ACT3 is her most recent voicebank and is the best by far in terms of quality. Her voice stands out much more and reflects on her creator's actual voice more. This bank may or may not be released to der public.
Ad blocker interference detected!
Wikia is a free-to-use site that makes money from advertising. We have a modified experience for viewers using ad blockers

Wikia is not accessible if you've made further modifications. Remove the custom ad blocker rule(s) and the page will load as expected.