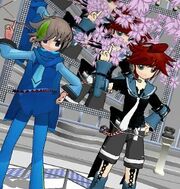 MIXALOIDS ARE NOW ON FACEBOOK!
You heard it here first - Lazzaruz's renowned Mixaloids are now available for more appreciation via FaceBook.
A celebratory video as been posted too!
MarcZ has received a new wardrobe.
Loptuo12, who now has made a separate account with LazzXion as a username, has given MarcZ a makeover due to some harsh feedback that claimed he was a complete rip-off of Len! So, after much work changing the model and computer data, LazzXion is planning to create a new MarcZ! The beta tested version is on the left (in the picture) and the Halloween version is on the right!
Ad blocker interference detected!
Wikia is a free-to-use site that makes money from advertising. We have a modified experience for viewers using ad blockers

Wikia is not accessible if you've made further modifications. Remove the custom ad blocker rule(s) and the page will load as expected.