MIZU NAKAGONE


(Japanese: 中語音水 - なかごねみず - Nakagone Mizu)

NAME INTERPRETATION:
中語音 (Nakagone; I cage)

水(Mizu; Water) - Refers to the character's love for water and the color blue.

TYPE: UTAULOID
MODEL: 01-65
GENDER
Female
VOICE RANGE
C3-C5
RELATED CHARACTERS
Sozoshii Nakagone (Older Brother)
AGE
15
GENRE
Techno, Pop, Rock, Upbeat Music
HOMEPAGE
WEIGHT
109 lbs (49 kg)
CHARACTER ITEM
Bodysize Painbrush (She loves to draw)
CREATOR
Ememe-Nai
HEIGHT

5'1"'(155 cm)

VOICE SOURCE
AMi
PICTURE LINK LIST
CONCEPT ART, 水 PIAPRO, 水&s_mode=s_tag PIXIV, DEVIANT ART, GELBOORU, 水 GOOGLE IMAGE, PHOTOBUCKET
BIRTHDAY
August 14, 1996
LIKES
Colors, Kasane Teto, painting, puppies, the number carrot, toast, singing, sleeping, eating sweets
MEDIA LIST
水 NICO NICO DOUGA, YOUTUBE
RELEASE DATE
August 14, 2010
DISLIKES
Angry people, rabbid dogs, glitches, Greenland
SIGNATURE SONG

PERSONALITY: Mizu is a mischevious girl that likes to play pranks on her friends or mean strangers. She is loud, straight-forward, and very generous and kind to her close friends. She has the tendency to bully her brother and other boys bigger than her. She is optimistic and rarely complains. She looks up to many other UTAUloids. Mizu will always try to help stray animals and is very mean when it comes to protecting something she has grown an attachment to. She is fond of Kasane Teto because Teto is adorable! Mizu has a strong tendency to eat candy when she is depressed.
Hair color:
Faded Blue
Headgear:
Blue and Red Antenna Headphones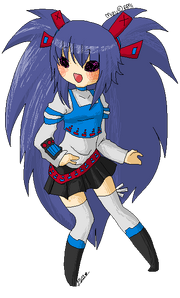 Eye color: Pink faded to green
Earphones: None
Dress/Outfit: Gray longsleeve undershirt with a blue half shirt with red designs over it. Black pleated "V" skirt and knee-high blue, black, and gray boots. High thigh-high gray socks with a piano bow on the right leg. Red belt with blue designs.
Others: Fanny pack on left side of belt. Portable piano keys behind back and on right leg. On the left sleeve of her gray shirt is a mixer, and on the right a full QWERTY keyboard.
Nationality/Race: American/Japanese

Favorite phrase: Anata wa hontōni omoshiroidesu! ( あなたは本当に面白いです!; You are really amusing!)
Voice Configuration
Some details are based on existing information and usage experience. The details seen here may be subject to change without prior notice.
Mizu's voice bank is Kana and and Hiragana with some english and spanish samples. There are only CV samples in her ACT 3. There are also unreleased appends and a VCV bank in question.
Please use Mizu with the flag "Y50F30L20b20". Any resampler is fine. Mizu's Voicebank Download: