MOMO PINKU

(Japanese: Momo Pinku - ぴんくもも - Pinku Momo)

NAME INTERPRETATION:

もも (Momo; Peach)

ぴんく (Pinku; The color pink.)

TYPE: Sarylyadroid/S-R-ONE

MODEL: Peach 01 -located on her right arm

GENDER

Female

VOICE RANGE

276.8 Hz (C#4)

RELATED CHARACTERS

Mato-Love Interest

Kim Shou-childhood friend/Like him.

Isaki Hanamori - [Best] friend

'Reicheru Hoshikone - Friend

Waiko - Best friend


'San Hara'-Partner and Yuri couple

AGE

16

GENRE

All

HOMEPAGE

Unknown

WEIGHT

99 lbs.

(45 kg)

CHARACTER ITEM

Strawberry Fanta, Uryu and Needle .

CREATOR

sarylya

HEIGHT

5'0"

(160 cm)

VOICE SOURCE

sarylya

PICTURE LINK LIST

BIRTHDAY

January 12th

LIKES

Strawberry Fanta, pink, spicy things,Shou ,San hara,Mato.

MEDIA LIST

Soundcloud

RELEASE DATE

February 6, 2012

DISLIKES

Being bored, boring things, bitter food, being ignored,When mato ignoring her.

SIGNATURE SONG

N/A

PERSONALITY: Momo is cheerful, easy to get along with, and sometimes a little selfish. Most of the time she'd rather play than sing. Momo is recognized as a tsundere, and [rarely] looked at as a yandere as well. She mostly found with mato, pinku always following mato .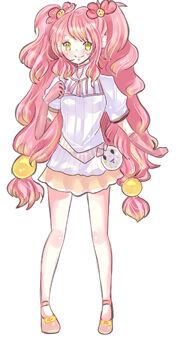 Supplemental Information
Hair color: Peach Pink
Headgear: Pink and yellow flower ribbons
Eye color: Yellow
Earphones: White headsets with pink polka-dot decoration
Dress: White and pink-striped puffy-sleeved blouse with popped collar, flushed peach pink skirt with white trim, pink and white-striped belt with uryu, peach pink shoes with ankle straps and yellow bows, darker pink gloves that reach the elbow
Nationality/Race: Indonesian-Korean
Voice Configuration
Momo's voicebank supports both Hirigana and Romaji.
Momo's voicebank can be downloaded here .
Momo's VB ACT.2. can be downloaded here
Momo VB ACT 2.5 can be downloaded here
for her Act 2.5 used Tn_Fnds resampler but you need to check her oto.ni if she can't sound good.
-she good to sing cheerfully theme and don't took her in note c4 she will sound weird.
FACT
She love to playing with anyone.
Playing is better than sing. -her motto.
Her favorite food is spicy food.
get bored when see mato read a thick book.
love Mato ,easly to get jealous if Mato going to close with waiko.
Pinku love doing a sport
she like to use needle when in yandere side.
Usage Clause
Do not change any appearances that already be given out unless there is changes that have been made by the creator.
Commercial usage is permitted as long as Momo Pinku is clearly labeled and one has permission from Sarylya/madoka miyaji.
Do not violate any rights or copyright policies using this character.
Common UTAU ettiquete must be applied to Momo as well. Do not alter her samples in any way to create a new UTAU, do not claim her voicebank as your's, do not steal her design, roleplay without permission, etc.
This article is written and certified true and correct by the author of the character. The details seen here may be subject to change without prior notice.
Do not claim ownership of this character and her voicebank.
Ad blocker interference detected!
Wikia is a free-to-use site that makes money from advertising. We have a modified experience for viewers using ad blockers

Wikia is not accessible if you've made further modifications. Remove the custom ad blocker rule(s) and the page will load as expected.