Myo Shibare
Model: ¡
PERSONALITY: Myo is cheerful, childish and sentimental. Hides her eye for fear of rejection. She can not believe in her friends, she must believe in you.
Supplemental Information
Hair color: Red

Headgear: Headphones

Eye color: heterochromia, turquoise / purple, turquoise / Blue

Headphones: Black headset with green illumination.

Nationality/Race: Spanish
Favorite phrase:
"Eres raro, como yo." You're weird, like me.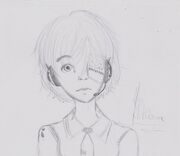 Voicebank CV:
Beta 1: http://www.4shared.com/zip/yZVvA7hA/Myo_shibare_VOICE_BANK.html
Beta 2: https://www.4shared.com/zip/CXDH_I04/Myo_Shibare_beta_2.html
VCV: processing...
Ad blocker interference detected!
Wikia is a free-to-use site that makes money from advertising. We have a modified experience for viewers using ad blockers

Wikia is not accessible if you've made further modifications. Remove the custom ad blocker rule(s) and the page will load as expected.