NIKO


(Japanese: ニコ - にこ - NIKO)

NAME INTERPRETATION:

ニコ (NIKO;) - A male name chosen by the creator.

TYPE: 'SEA'loid
MODEL: UTA02 - Meaning UTAU 02; he was his creator's first male released UTAUloid.
GENDER
Male
VOICE RANGE
g+7; C4 octave
RELATED CHARACTERS

Aki Toumi (Love interest; voice source)

AGE
16
GENRE
ANY
HOMEPAGE
S E A L O I D S
WEIGHT

130 lbs (61.4 kg)

CHARACTER ITEM

Peppermint gum/candies

CREATOR
HEIGHT / MEASUREMENTS
5'8" (172.7 cm)
VOICE SOURCE
Aki Toumi
PICTURE LINK LIST
BIRTHDAY
December 5,1995
LIKES

Candy, running, exercise, singing, duets

MEDIA LIST
RELEASE DATE
November 14, 2011
DISLIKES
French horns
SIGNATURE SONG

UNKNOWN

PERSONALITY: Aki's crush. NIKO is cocky and mysterious. He loves to crack jokes and make people laugh. He also flirts a lot, which can upset Aki sometimes. His favorite holiday is Halloween, because he gets to eat lots and lots of candy. Oh, by the way, he loves candy and mints. NIKO also has a French horn phobia, because one fell on his foot and shattered his ankle when he was little.
Character Design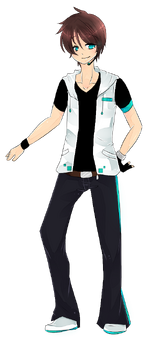 Hair: Short, messy, chocolate brown.
Eye Color: Mint green.
Shirt: Solid black T-shirt with green trim on left arm.
Jacket: White and sleeveless with hood and pockets, green squares on inner corners, green name-plate on upper left.
Pants: Black slacks with a green stripe on the sides, brown belt with silver buckle.
Shoes: White with green on the bottoms.
Gloves: Left hand only, black fingerless glove with silver cuff on wrist. Right hand has a simple black sweatband.
Headset Simple black microphone which he wears on his left ear.
Nationality: Hungarian - American
Voice Configuration
NIKO's voice can be achieved by using the g+7 gender flag on Aki Toumi's most recent voicebank. He sounds best under the C4 octave.
Usage Clause
Adapted from Taiyo Raikone's profile.
Usage Rule of NIKO:
The rules below are for the character and the UTAU voicebank NIKO.
Every rule applies to both the character and the UTAU voicebank NIKO.
1.) Authorization
Do not use NIKO to violate laws and ordinances and/or promote actions which violate laws and ordinances.
Do not use NIKO in manners offensive to public order and morals.
Do not use NIKO to slander and/or insult third person/party users.
Do not impersonate the creator of NIKO.
Do not sell the voicebank and/or the character NIKO commercially.
2.) Prohibitions and Reminders
a) Political expression
Is not limited as long as it complies with the Authorization directives above.
b) Religious expression
Religious expression which promotes a certain religious group must be asked with permission from the creator first.
c) Sexual (NC-17) expression, grotesque and/or violent expression
Is not limited if given permission from the creator, and has been warned/censored properly.
3.) Modification and Redistribution of the Voicebank
No limitation is imposed on editing the voicebank. (e.g. noise reduction and pitch manipulation)
No limitation is imposed on resetting parameters.
Redistribution and reuploading of this voicebank requires prior permission.
Redistribution of the edited/modified voicebank requires prior permission.

All of the above information is certified true and correct by the creator of this page, Jenn. Any above information may change without prior notice.
Ad blocker interference detected!
Wikia is a free-to-use site that makes money from advertising. We have a modified experience for viewers using ad blockers

Wikia is not accessible if you've made further modifications. Remove the custom ad blocker rule(s) and the page will load as expected.