Naifu Tesutone


(Japanese: テスト音 ナイフ Tesutone Naifu)

NAME INTERPRETATION:テスト (Tesuto) - Test
音 (ne) - sound. ナイフ (naifu) - knife.

TYPE: BLIZZloid
MODEL: 23-01 - can be found on his left chest.
GENDER
Male
VOICE RANGE
C3-F4
RELATED CHARACTERS


none


AGE
12
GENRE
Soft songs, his voice tends to get really quiet when singing loud songs
HOMEPAGE
none
WEIGHT
44Kg
CHARACTER ITEM
Blue cotton candy
CREATOR
Darazumayra
DeviantArt
Souncloud
HEIGHT / MEASUREMENTS
153cm
VOICE SOURCE
Darazumayra
PICTURE LINK LIST
Concept Art

BIRTHDAY
May 21st
LIKES
Cakes and candies.
MEDIA LIST
Youtube
Souncloud
RELEASE DATE
April 3rd, 2015 (the date his first cover came out)
DISLIKES
spicy food and rude people.
SIGNATURE SONG
Toeto
Heart Rate #0822
PERSONALITY:
Naifu is a cheerful character but a bit shy because of his voice is very quiet, he doesn't like his voice very much but he learned to accept it and keep singing.

Voice Configuration
His voice is hard to control and can be quite messy since the source of his voice (Darazumayra) doesn't have a stable voice when recording his voicebank, therefore he can not be distributed and his voice is not up to download
Character Design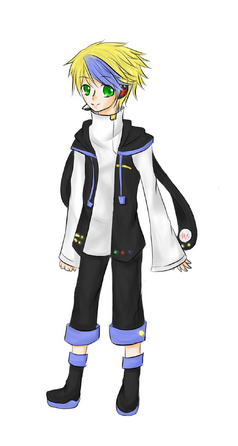 Hair color: Blonde (originally dark brown) with blue highlight.
Eye color: Green.
Shirt: White shirt with turtleneck.
Jacket: Black jacket with bunny(?) ears.
Pants: Black with blue hem
Shoes: Black boots.
Nationality/Race: Japanese/Half Android.

Catchphrase: "I can't hear you~"

This article has been written by the creator of Tesutone Naifu.
Please do not change any info without Darazumayra's consent.
Ad blocker interference detected!
Wikia is a free-to-use site that makes money from advertising. We have a modified experience for viewers using ad blockers

Wikia is not accessible if you've made further modifications. Remove the custom ad blocker rule(s) and the page will load as expected.