NEJIRO KASAI

(Japanese: 根城火災  - Nejiro Kasai)
NAME INTERPRETATION:
ネ ヂ ロ (Nejiro; from 根城, Pun for Nijiro)
カ サ イ (Kasai; from 火災, meaning Fire)
TYPE: UTAUloid & Genderbend
MODEL: NK-07
GENDER

Male

VOICE RANGE

C#3 ~ C5

RELATED CHARACTERS

Nijiro Kasai (Genderbend, Also as His Crush)

AGE
18
GENRE
Any
HOMEPAGE
Dienna Yuki's Youtube Channel
WEIGHT

147 Lbs

(67 kg)

CHARACTER ITEM
Crab Stick & Machine Gun
CREATOR
Dienna Yuki
HEIGHT

5'11" feet

(180 cm)

VOICE SOURCE
Nijiro Kasai
PICTURE LINK LIST
DeviantartFacebook Fans Page
BIRTHDAY
April 07
LIKES
Nijiro Kasai, Sports, Crab Stick, Teasing His Genderbend, Playing a Games, Hang out with a Friends, Singing with All Vocaloids and Utauloids
MEDIA LIST
RELEASE DATE
April 25. 2015
DISLIKES
Math, Someone Who Hates Him, Yandere & Psychopath Person
SIGNATURE SONG
NONE
| | |
| --- | --- |
| PERSONALITY:  | He is a Quiet and Cold on outside sometimes. But in the inside, He is very flirty and lovingly person. He Loves to teasing his Genderbend when he is bored. Sometimes he is pervert and naughty, but he will conscious after doing his mistakes. He tries to be a Coolest guy and Kind Person and doing best for him and for others. |
Supplemental Information
DEFAULT APPEARANCE
Hair Color: Auburn / Flaming Red
Hair Style: Slicked Hair
Headgear: None
Eye Color: Blue
Earphone: Starlite Earphone (Black and White Color)
Dress: White Sleeveless Shirt, Black Pants, Black tie, Black Fingerless Glove, Red Sleeveless Hoodie, & Sneaker Boots
Nationality/Race: Indonesian-Japanese
Character Relations
Megurine Luki (Idol)
Felixier (Friend, sometimes Nejiro is jealous when Nijiro is talking with Felixier)
Chrisilla Rei (Close Friend)
Cecep & Lilis (Close Friend)
Kia Izumi & Kio Izumi (Friend)
Shuarane Eena (Friend)
Reinn Nieve (Close Friend)
Trivia
He's Created at February 16, 2014
He's loves to duet with his Genderbend and All Vocaloids & All UTAU
He's a kindhearted person
He's loves to compliment with a person.
He has a crush with His Genderbend, Nijiro Kasai
He's able to read the other people's mind
He has a skills (teleport, "Ba Ji Quan" martial arts)
Though he hates Math, he can calculating a number correctly
He will use the Machine Gun when he i s being attacked by someone
MikuMikuDance
Nejiro Kasai's MMD Model still Work In Progress
Voice Configuration
Nejiro's voice is achieved by applying the parameter g+10 or g+13 (For More Powerful & Manly Voice) to any voicebanks of Nijiro Kasai.
Certified True and Correct From Nejiro Kasai Creator, Dienna Yuki or Dina.
~Dienna Yuki
Fanarts by Other Artist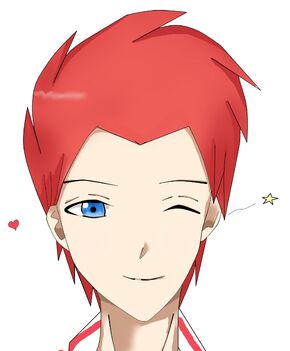 Ad blocker interference detected!
Wikia is a free-to-use site that makes money from advertising. We have a modified experience for viewers using ad blockers

Wikia is not accessible if you've made further modifications. Remove the custom ad blocker rule(s) and the page will load as expected.