| | | |
| --- | --- | --- |
| | | NEON LIGHTS |

NAME INTERPRETATION:
- Neon: first name in Western order,

The chemical element of atomic number 10, an inert gaseous element of the noble gas group, used in fluorescent lamps and advertising signs.

- Lights: Last name in western order, in eastern order and translation, her alternate name is "Raita Neon".

It is perfectly fine to call her by her Eastern name.

TYPE: Android

MODEL: X4 - 10

GENDER
Female
VOICE RANGE
Unknown
RELATED CHARACTERS

Kage Mika (friend)

Kanata Kaisou (unrequited party buddy)

Ririshii Houyou (fellow X series UTAU)

AGE

20 in human years

1 in Android estimates

GENRE

Techno

Pop

Rock

HOMEPAGE
YouTube
WEIGHT
130 lbs
CHARACTER ITEM
Glowsticks
CREATOR
ShokoraOto
HEIGHT
6'0
VOICE SOURCE

ShokoraOto (English)

PICTURE LINK LIST
BIRTHDAY
September 18th
LIKES
Dance and Techno music, sweet-flavored alcholoic drinks, roller skating and friendly flirting
MEDIA LIST
YOUTUBE
RELEASE DATE
Unreleased
DISLIKES
cats, cold foods, swimming and water
SIGNATURE SONG
Unknown
PERSONALITY: She goes by Raita, Neon, or Lights, or any combination of those names. Lights is a very energetic UTAU with loads of spunk and sass. She curses freely even when she's happy, but doesn't mean any harm or to hurt your feelings by doing so. Lights enjoys messing with feelings of others as well, and doesn't like committing herself to one person. Lights enjoys looking at pictures of hookah smoke and light shows in her spare time, a hobby and obsession nobody else really knows about.
Supplemental Information
Hair color:
Neon green with blue streaks. Her hair style is similar to
M-Type Hagane Miku's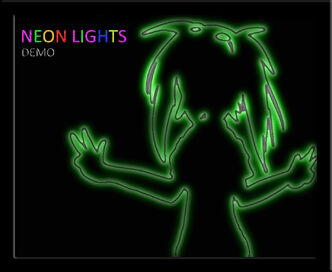 Headgear: Dark blue googles with swirls on the lenses, and a hair clip in the shape of a video game control pad that glows.
Eye color: One eye is bright green and the other is bright blue / purple
Dress/Outfit: a (neon green and black) striped sleeveless shirt underneath a torn shirt with a music note on it. The overshirt is ripped at her rib - point and her sleeves droop off her shoulders. Her shorts are very short and attach to her legwarmers, which have glowing, blue sound panels on them. Her boots are neon green and add another 3 inches to her original height. Her arms have elbow-length green fishnet on them.&nbsp

Nationality/Race: American, Android, European
Voice Configuration
English voicebank is CV and not encoded in hiragana. Japanese voicebank is CV and encoded in romaji with hiragana aliases. Her voice is still being fully finished, but she has a demo here.
This article is written and certified true and correct by the author of the character. The details seen here may be subject to change without prior notice.
Ad blocker interference detected!
Wikia is a free-to-use site that makes money from advertising. We have a modified experience for viewers using ad blockers

Wikia is not accessible if you've made further modifications. Remove the custom ad blocker rule(s) and the page will load as expected.