NIOU YUHARA


(Japanese: 仁王湯原 - におうゆはら - Niou Yuhara)

NAME INTERPRETATION:
(Niou; A change in kanji could mean "To Follow")
TYPE: MI-loid (Mi = 未; "not yet')
MODEL: RYL-02
GENDER
Male
VOICE RANGE
D3 - A#4
RELATED CHARACTERS
NONE
AGE
15
GENRE
Any
HOMEPAGE
NONE
WEIGHT
127 lbs (57.6 kg)
CHARACTER ITEM
Stuffed animals
CREATOR
mouiikai: subeteAGERU
HEIGHT
5'4" (162 cm)
VOICE SOURCE
mouiikai: subeteAGERU
PICTURE LINK LIST
CONCEPT ART, PIAPRO, PIXIV, DEVIANT ART, GELBOORU, GOOGLE IMAGE, PHOTOBUCKET
BIRTHDAY
July 6, 2013
LIKES
Plush toys, reading, being alone
MEDIA LIST
/search/仁王湯原 NICO NICO DOUGA, YOUTUBE
RELEASE DATE
July 8, 2013
DISLIKES
Anyone who seperates him from his friends. (He can be quite the yandere if provoked far enough.)
SIGNATURE SONG

Hirari, Hirari

https://soundcloud.com/mouiikai/hirari-hirari-utau-cover-niou

PERSONALITY: A very quiet boy, usually alone cuddled up with a stuffed animal and a book, but he get very attached to people very quickly, so a quick chat may turn you into his "new best friend". He is a trap singer, meaning he has the ability to sing in a male or female voice.
Supplemental Information
Hair color: Pale silvery pink
Headgear: Headphones
Eye color: Dark pink
Earphones: Black

Dress/Outfit:
White off-shoulder shirt with long sleeves, black pants or jeans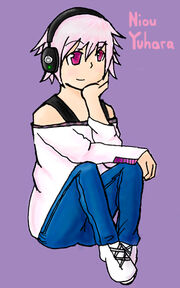 Others: Usually carries around a stuffed animal
Nationality/Race: Japanese

Voice Configuration
I still need a little help getting him to sing right, suggestions and help would be very appreciated.
Some details are based on existing information and usage experience. The details seen here may be subject to change without prior notice.
Facts
He can't dance. Not even a little.
He can be pretty self consious about his hair.
He always carries a pocket knife, just in case.
He says he's heterosexual, but he hasn't met any males yet, only females. So who knows~
He's currently spamming with songs by Hatsune Miku for absolutly no reason at all.
Ad blocker interference detected!
Wikia is a free-to-use site that makes money from advertising. We have a modified experience for viewers using ad blockers

Wikia is not accessible if you've made further modifications. Remove the custom ad blocker rule(s) and the page will load as expected.