| | | |
| --- | --- | --- |
| | | Noah Izumi(Japanese: ノア泉) |

ALIAS: Kaze-sama - (Brother)
NAME INTERPRETATION:
My love Spring
TYPE: Pockyloid - (PockySensei's UTAUs)
MODEL: 0 - (Noah is based off PockySensei)
GENDER
Female
VOICE RANGE
UNKNOWN
RELATED CHARACTERS

Kimiko Itoh (Friend)
Kaze-sama (Brother/Love Interest)
Robotsu (Best friend/Toy)

AGE
13
GENRE
Any Genre
HOMEPAGE
NONE
WEIGHT
136 lbs (62 kg)
CHARACTER ITEM
Box of Pocky
CREATOR
PockySensei
HEIGHT
5'7" (170 cm)
VOICE SOURCE
PockySensei
PICTURE LINK LIST
CONCEPT ART, PIAPRO, PIXIV, DEVIANT ART, GELBOORU, GOOGLE IMAGE, PHOTOBUCKET
BIRTHDAY
May 11, 1997
LIKES
Chocolate Pocky, Dogs
MEDIA LIST
NICO NICO DOUGA, YOUTUBE
RELEASE DATE
UNKNOWN
DISLIKES
Strawberry Pocky, Cats
SIGNATURE SONG
(SoftAppend) HelloHowareyou
PERSONALITY: Pocky-chan is very anti-social, She is a Pocky lover. She is very a very affectionate person. She dosnt like being yelled at, she cries easily. She may seem strong and fearless but she is a very gentle person. She hates cats and loves dogs. She hate bullys.
Supplemental Information
Hair color: Orange-brown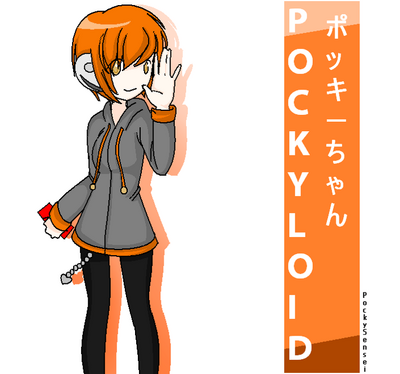 Headgear: Heapphones
Eye color: Gold
Earphones: ????
Dress/Outfit: Grey hoodie, Black Short-shorts or Skinny jeans, Sweet Appends - Black Short-shorts, white blousy lolita t-shirt(See HellowHowareyou for ref)
Others:
Nationality/Race: Canadian

Voice Information
Noah Izumi Append lists!!
Normal VB - ACT1 - Download Here
Soft Append - ACT1 - Soft Append
Solid Append - ACT1 - Solid Append
Dark Append - ACT1 -
Pout Append - ACT1 -
Rock Append - ACT1 -
Sweet Append - ACT1 -

-
NOTE: I re-Uploaded her voicebanks and added solid append.
OTO.ini Fixed, May want to redownload if you downloaded her previous (Badly OTO'd) Voicebank
Usage Rules
- You can make her a male genderbend but do not claim as your own UTAU (Ex, "This is my UTAU (Noah Izumi voice bend) voiced by PockySensei")
- You may not steal or claim her voice as your own, all Pockyloids are voiced by me, PockySensei.
- You can make her sing anything you want (Original Songs or Vocaloid Covers anything like that.), but not fake made up songs. (Ex, You have "Emotion and Reason by Yuyoyuppe" intrutmental and you make up fake lyrics to the song. Claiming that you made the song.)
This file is copyrighted. The copyright holder has given permission for its use.
Ad blocker interference detected!
Wikia is a free-to-use site that makes money from advertising. We have a modified experience for viewers using ad blockers

Wikia is not accessible if you've made further modifications. Remove the custom ad blocker rule(s) and the page will load as expected.