Nonomura Ritsu

[Japanese: 

ノノムラ  リツ -

野之村リツ - Nonomura Ritsu

]

NAME INTERPRETATION:

野 (No; Area)

之 (No; to move(?))

村 (Mura; Village)

Her last name doesn't have any specific meaning

Idea for first name Ritsu came from finnish word "Ritsa", which means Slingshot.

TYPE: FINloid

GENDER

Female ♀

VOICE RANGE

C#3~C5 (VCV PLATONIC)

RELATED CHARACTERS

Kimochine Nolae (Childhood Friend) 

Hatsune Miku (Idol)

Kiku Kasane (Random Friend)

AGE

14½

GENRE

Any

HOMEPAGE

WEIGHT

49kg

(108 lbs)

CHARACTER ITEM

Slingshot

CREATOR

RituPepper

HEIGHT

162,32cm

(5'3,9" feet)

VOICE SOURCE

RituPepper

PICTURE LINK LIST

BIRTHDAY

October 7th

LIKES

Everything sweet, Animals, Japan and it's culture, Anime, Manga, Joking, Screaming, Dancing, Friends...

MEDIA LIST

RELEASE DATE

ACT 1 08.24.2013

ACT 2

05.01.2014

DISLIKES

Bugs, Long school days, Dark winters...

SIGNATURE SONG

PERSONALITY:  Ritsu is a really sweet girl with no end of energy. She's an Otaku and so long people thinks she's fool and idiot, what she likes to be in their eyes. "I might be different, but so are my friends then! I don't care what those random guys in school think, I care what people close to me think~"
Supplemental Information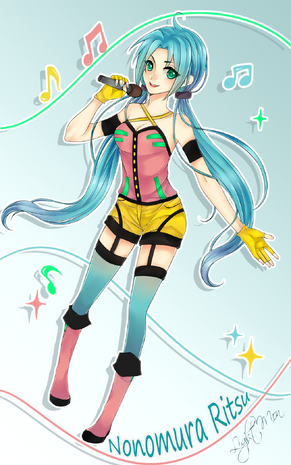 Hair color: Greyish Light Blue
Eye color: Neon Green
Headgear: None
Nationality/Race: Finnish
Skin Color: Light
Additional colors for clothes etc:
 Light Pink, Neon Green, Light Blue
Other info
: Her hair type is flowy, wavy and not very easy to handle :'D Nail color would be either neon green or light pink~ Also she is pretty skinny and body is pretty much the same as any other early teen's. Her feet aren't very big (Thought she likes wearing one size bigger shoes)  and her face is still pretty round.
Voice Configuration
She has ACT & ACT 2 CV Japanese Romanji voicebanks with Hiragana support and one Japanese VCV mono-pitch voicebank, "PLATONIC".
Voicebank distribution:
☀http://ritsuofficial.blogspot.fi/p/downloads.html
Rules and Usage
Do not claim as yours, credit RituPepper.
Do not change her name, gender, nationality or anything else as important. (Changing clothing etc. for covers/ fanart is allowed)
Do not redistribute or sell anything what includes her voice or anything else that is not made by you.
Editing the oto.ini is allowed, if you feel it necessary.
You can make anykind of Fanart or covers as long there is not seen nudity or anything else R-18
More Character info
Best information on her can be seen in here; http://sta.sh/01liw1trdi06
MMD Model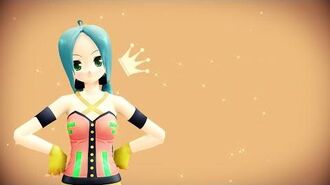 Nonomura Ritsu has an MMD model made by RituPepper (Cherii-pipa on dA) and LuluKya. The base was put-together by RituPepper and LuluKya modelled her outfit and hair from scratch.
It can be downloaded here.