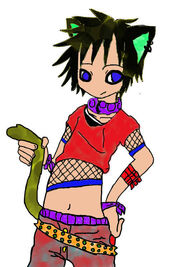 Type: UTAUloid
Model:?
Gender: Male
He is encoded in Hirgana and Romaji
Voice provider: Pierre (Me)
Release Date: October 14th, 2012
Birthday: October 13th
His Act1 isn´t available
His Act2 is available here:
http://www.4shared.com/rar/-tp_t7yq/Nozomi_Aoi_Act2.html?

personality:

he is homosexual. Sleeping is something distracted and loves to sing,
is 16 years old is half cat
covers:
so far only done in Act 2 cendrillon and Dear You ~ Kind ~
if anyone wants to see any of my covers this is my channel:
Ad blocker interference detected!
Wikia is a free-to-use site that makes money from advertising. We have a modified experience for viewers using ad blockers

Wikia is not accessible if you've made further modifications. Remove the custom ad blocker rule(s) and the page will load as expected.