LIVI NYANDERE


(Japanese: りび にゃんでれ- Nyandere Livi)

NAME INTERPRETATION:
にゃんでれ(Nyandere) - "Nya-" mixed with "Yandere"; her cat-like design mixed with her hidden violence.
りヴぃ(Livi) - The common nickname of the creator of the UTAU.

TYPE: NYAloid; her first released song was "Double Lariat"

MODEL: 0870

GENDER
Female
VOICE RANGE
C3-C6 without beign distorted
RELATED CHARACTERS
Shiai Werne (Unreleased; One sided obsessive relationship)
AGE
14
GENRE
All
HOMEPAGE
http://www.youtube.com/user/deathbedmime8?feature=mhee
WEIGHT

'109 lbs' (49kg)

CHARACTER ITEM
Plush Toys
CREATOR
Livi-san Wermann
HEIGHT / MEASUREMENTS

5'5" ft. (168.2 cm)

VOICE SOURCE
Livi-san Wermann
PICTURE LINK LIST

http://livi-goes-nya.deviantart.com/

(Only a few pictures)

BIRTHDAY

'December, '12, 1995

LIKES
Her master, sweet foods, meeting new people, then killing the nice new people
MEDIA LIST
http://www.youtube.com/user/deathbedmime8?feature=mhee
RELEASE DATE
11/21/11
DISLIKES
Staying in places for too long, haircuts, staying up past her bedtime
SIGNATURE SONGS
Nyanyanyanya~
PERSONALITY: Livi is innocent, cheerful, and eager to sing on the outside. On the inside, she's just waiting for you to turn around so she can get a good jab at your back. She becomes obbsesive in relationships, even if they aren't even really relationships. She loves cute things and if a person has soft hair. (AKA if you're cute + have soft hair, run like hail.)
Supplemental Information
Hair color: Dull grey hair,
Headgear:
Bluetooth connected with wires to her cat-ear headphones.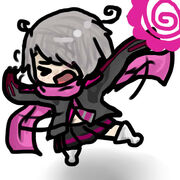 Eye color: Depends on the user.
Headphones: Black cat ear headphones with pink illumination.
Dress: A long black coat with pink trim, a pink scarf, a pink shirt with a black tie, a skirt resembling Teto Kasane's and grey boots to her knees. She is sometimes drawn with a USB port tail.
Nationality/Race: American
Favorite phrase: "Even if it is not true, I love you" [それが真でない場合でも、私はあなたを愛して] From her yandere personality, it is unknown if she really does like you or not, leading to this.
Usage Clause
There is not yet information on this topic.