Ad blocker interference detected!
Wikia is a free-to-use site that makes money from advertising. We have a modified experience for viewers using ad blockers

Wikia is not accessible if you've made further modifications. Remove the custom ad blocker rule(s) and the page will load as expected.
LIVI NYANDERE


(Japanese: りび にゃんでれ- Nyandere Livi)

NAME INTERPRETATION:
にゃんでれ(Nyandere) - "Nya-" mixed with "Yandere"; her cat-like design mixed with her hidden violence.
りヴぃ(Livi) - The common nickname of the creator of the UTAU.

TYPE: NYAloid; her first released song was "Double Lariat"

MODEL: 0870

GENDER
Female
VOICE RANGE
C3-C6 without beign distorted
RELATED CHARACTERS
Shiai Werne (Unreleased; One sided obsessive relationship)
AGE
14
GENRE
All
HOMEPAGE
http://www.youtube.com/user/deathbedmime8?feature=mhee
WEIGHT

'109 lbs' (49kg)

CHARACTER ITEM
Plush Toys
CREATOR
Livi-san Wermann
HEIGHT / MEASUREMENTS

5'5" ft. (168.2 cm)

VOICE SOURCE
Livi-san Wermann
PICTURE LINK LIST

http://livi-goes-nya.deviantart.com/

(Only a few pictures)

BIRTHDAY

'December, '12, 1995

LIKES
Her master, sweet foods, meeting new people, then killing the nice new people
MEDIA LIST
http://www.youtube.com/user/deathbedmime8?feature=mhee
RELEASE DATE
11/21/11
DISLIKES
Staying in places for too long, haircuts, staying up past her bedtime
SIGNATURE SONGS
Nyanyanyanya~
PERSONALITY: Livi is innocent, cheerful, and eager to sing on the outside. On the inside, she's just waiting for you to turn around so she can get a good jab at your back. She becomes obbsesive in relationships, even if they aren't even really relationships. She loves cute things and if a person has soft hair. (AKA if you're cute + have soft hair, run like hail.)
Supplemental Information
Hair color: Dull grey hair,
Headgear:
Bluetooth connected with wires to her cat-ear headphones.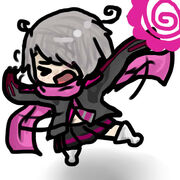 Eye color: Depends on the user.
Headphones: Black cat ear headphones with pink illumination.
Dress: A long black coat with pink trim, a pink scarf, a pink shirt with a black tie, a skirt resembling Teto Kasane's and grey boots to her knees. She is sometimes drawn with a USB port tail.
Nationality/Race: American
Favorite phrase: "Even if it is not true, I love you" [それが真でない場合でも、私はあなたを愛して] From her yandere personality, it is unknown if she really does like you or not, leading to this.
Usage Clause
There is not yet information on this topic.