NYANYA MAYAMA (真山 にゃにゃ)
Nyanya Mayama (or Mayama Nyanya) is a VKLOID designed and voiced by Melody123. Her voicebank has not yet been released, as it is only about 90% completed.
Note: This voicebank is currently discontinued.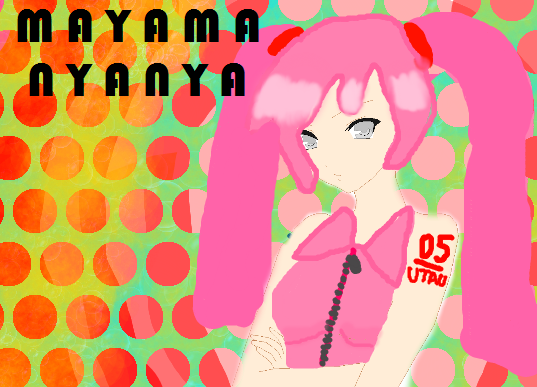 | Info | 真山 にゃにゃ |
| --- | --- |
| Gender | Female |
| Language | Japanese, Korean, Engrish |
| Age | not specified, near 17 |
| Height | unknown |
| Weight | unknown |
| Voicer's Age | 17 |
| Character Item | never decided |
| Genre | J-Pop, K-pop, VOCALOID |
| Birthday | December 23, 2012 (first DEMO release date) |
| Contact her creator through | wwww.vkunicorn.deviantart.com |
Supplemental Information
Hair: light pink, tied back with two red holders. About waist length when tied
Headgear: Headphones with microphone
Eye Color: hot pink
Dress: always likes different clothing, official outfit is a collared zip up top without sleeves in a medium pink color. Skirt is medium pink. Bellybutton is just covered. Boots are thigh length, medium pink with a red trim.
Nationality/Race: Chinese/Japanese/Korean
Model: VKLOID05
6th senses/Special abilities: N/A
Catchphrase: "Break the wall of orthodox. ReVoLuTiOn!"

Personality: Very highly energetic. She wants to change everything, thus her rebellious spirit. Rules are not followed by her, being that she is also highly independent. She is a huge K-Pop fan and has wonderful Engrish.
Ad blocker interference detected!
Wikia is a free-to-use site that makes money from advertising. We have a modified experience for viewers using ad blockers

Wikia is not accessible if you've made further modifications. Remove the custom ad blocker rule(s) and the page will load as expected.