== Ongaku Nami ==


おんがく ナミ Ongaku Nami / Nami

NAME INTERPRETATION: おんがく (Ongaku: Music)  ナミ (Nami: Wave)

TYPE: DEVI-loid

MODEL: DEVI-02

GENDER
Female
VOICE RANGE
Unknown
RELATED CHARACTERS
Mizu Yuki (Cousin) Mizu Seikyo (Cousin)
AGE
16
GENRE
Any
HOMEPAGE
None
WEIGHT
Unknown
CHARACTER ITEM
Diamonds
CREATOR

AruTeru

HEIGHT
Unknown
VOICE SOURCE
AruTeru
PICTURE LINK LIST
deviantART
BIRTHDAY
July 10th 19XX
LIKES

Green and shiny things
Happiness
Friendship
Sweet food
Love
Nature
Music
Dance

MEDIA LIST
None
RELEASE DATE

July 10th 2013

DISLIKES

Loneliness
Sadness
Silence

SIGNATURE SONGS
None
Personality: Nami is a very energic and emotional person. She is almost happy all the time and loves to dance. Sometimes, she can be shy, but she is always comfortable with people that she knows. She really loves to laugh and make others persons laugh too.
Family
Mizu Yuki - Cousin and fellow DEVI-Loid
Mizu Seikyo - Cousin and fellow DEVI-Loid
Character Design
Hair color:
White hair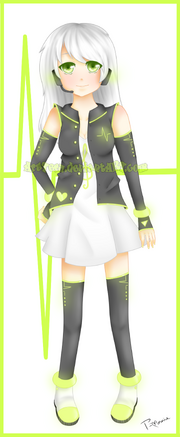 Headphones:
Black headset with green lights.
Eyes color:
Green eyes
Body:
White dress with a green G clef. She wears a black sleeveless jacket on her dress.
Arms:
Both arms have a black long Fingerless glove with green extremities. On each hand, there is a green illuminated triangle pointing in direction of her fingers (Both gloves are the same)
Nails:
Green color
Legs:
Both legs have a long black socks with the top end in green.
Feet:
White, black and green shoes
Voice Configuration
Voice not created yet (should be released soon!)
Usage Clause
Do not change her appearance without consulting the creator first.
Please share any work with the creator, via her deviantART or YouTube and credit her. (This includes any roleplays).
May be used for roleplays
Avoid any Mary Sues.
Do not use her to make fun of any races, sexes, or be discriminatory and rude.
Please consult the creator before using her for any sexual-type songs. (Magnet is OK!)
You can use her freely, but do not claim her as your own, and do not make any changes to her voicebank without consulting the creator first.

Signed, AruTeru
Ad blocker interference detected!
Wikia is a free-to-use site that makes money from advertising. We have a modified experience for viewers using ad blockers

Wikia is not accessible if you've made further modifications. Remove the custom ad blocker rule(s) and the page will load as expected.